ONE HEARS
28th February 1918
Page 3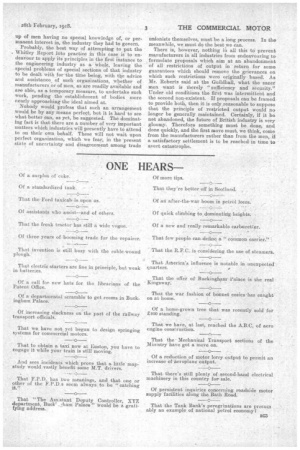 Page 3, 28th February 1918 —
ONE HEARS
Close
Of a surplus of coke. Of a standardized tank.
That the-Ford taxitab is upon us.
Of assistants who assist—and of others. That the freak tractor has still a wide Vegite.
Of three years of -booming trade for the 'repairer.
That invention. is still busy with the cable-wound plough.
That electric starters are fine in principle, but weak in batteries.
Of a call for new hats for the, librarians of the Patent Office.
Of a departmental scramble to get rooms in Buckingham Palace. .
Of increasing slackness on the part of the railway transport officials.
That we have not yet begun to design springing systems for commercial motors.
That to -obtain a taxi now at Euston, you have to engage it while your train is still moving.
And sees incidents which prove that a little map: study would -vastly benefit some M.T. drivers.
That F.P.D. has two meanings, other of the F.P.D.s seem always it." and that one or to be "catching That "The Ass:etant Deputy department, Buck= ..a.,hamPalace" faring address. _ Controller, XYZ would be a grafi. Of more tips.
That they're better off in Scotland. Of at after-the-war boom in Petriii Of quick climbing to,dominating heights.
Of a new and really remarkable carburetter.
That few peoplecan-define a " common' carrier." That the R.F.C. is considering the use of steamers.
That Aieerica's influence is notable in unexpected quarters.
That the offer of Buckingham Palace -is the real Iiingsway: That the war fashion of bonnet cosies has caught on at home.
Of a home-grow-n tree that was recently sold for R+00 standing.
That we have, , at last, reached the A.B.C. of aero engine construction.
That the Mechanical Transport sections of the Ministry have got a move on.
Of a -reduction of motor lorry, output to permit an increase Of aeroplane output.
• That there's still plenty of second-hand electrical machinery in this country for' sale.
Of persistent inquiries concerningroadside motor supply facilities along the Bath Road.