Dual-purpose Vans Cut Costs
28th December 1956
Page 36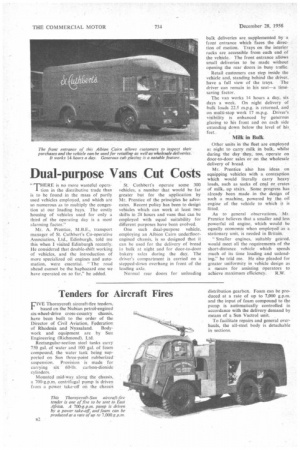 Page 36, 28th December 1956 —
Dual-purpose Vans Cut Costs
Close
"'THERE is n a o more wasteful oper
1 tion in the distributive trade than is to be found in the mass of partly used vehicles employed, and which are so numerous as to multiply the congestion at our loading bays. The costly housing of vehicles used for only a third of the operating day is a most alarming factor."
Mr. A. Prentice, M.B.E., transport manager of St. Cuthbert's Co-operative Association, Ltd., Edinburgh, told me this when I visited Edinburgh recently. He considered that double-shift working of vehicles, and the introduction of more specialized oil engines and automation, were essential. " The road ahead cannot be the haphazard one we have operated on so far," he added. St. Cuthbert's operate some 300 vehicles, a number that would be far greater but for the application by Mr. Prentice of the principles he advocates. Recent policy has been to design vehicles which can work at least two shifts in 24 hours and vans that can be employed with equal suitability for different purposes have been evolved.
One such dual-purpose vehicle, employing an Albion Cairn underfloorengined chassis, is so designed that it can be used for the delivery of bread in bulk at night and for door-to-door bakery sales during the day. The driver's compartment is carried on a stepped-down overhang in front of the leading axle.
Normal rear doors for unloading bulk deliveries are supplemented by a front entrance which faces the direction of motion. Trays on the interior racks are accessible from each end of the vehicle. The front entrance allows small deliveries to be made without opening the rear doors in busy traffic.
Retail customers can step inside the vehicle and, standing behind the driver.
have a full view of the trays. The driver can remain in his scat—a timesaving factor.
The van works 14 hours a day, six days a week. On night delivery of bulk loads 22.5 m.p.g. is returned, and on multi-stop work 17 m.p.g. Driver's visibility is enhanced by generous glazing to his front and on each side extending down below the level of his feet..
Milk in Bulk
Other units in the fleet are employed at night to carry milk in bulk, whilst during the day they, too, operate on door-to-door sales or on the wholesale delivery of bread.
Mr. Prentice also has ideas on equipping vehicles with a contraption which would literally carry heavy loads, such as sacks of coal or crates of milk, up stairs. Some progress has already been made in the design of such a machine, powered by the. oil engine of the vehicle to which it is fitted. .
As to general observations, Mr. Prentice believes that a smaller and less powerful oil engine, which would be equally economic when employed as a stationary unit, is needed in Britain.
" Smaller engines, suitably geared, would meet all the requirements of the short-distance vehicle which spends much of its time loading and unloading," he told me. He also pleaded for greater uniformity in vehicle design as a means for assisting operators to achieve maximum efficiency. R,W.