.Scotland
28th December 1956
Page 35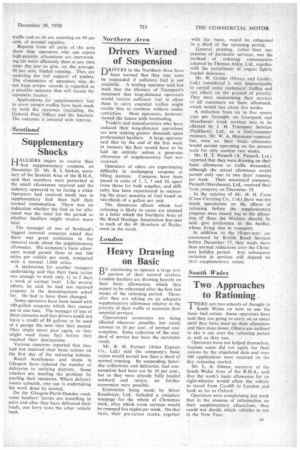 Page 35, 28th December 1956 —
.Scotland
Close
Supplementary Shocks
HAULIERS began to receive their first supplementary coupons on December 20. Mr. R. J. Stokoe, secretary of the Scottish Area of the R.H.A.. said that members were perturbed at the small allowances received and the industry appeared to be facing a crisis Operators had received much less in supplementary fuel than half their normal consumption. Therewas no indication whether the fuel so far allocated was the total for the period or whether hauliers might receive more later.
The manager of one of Scotland's biggest removal concerns stated that there was great confusion in the removal trade about the supplementary allowance. His company's basic allowance would permit them to run 100 miles per vehicle per week, compared with a normal 1,000 miles.
A spokesman for another transport • undertaking said that their basic ration was enough to work only 11 to 2 days a week at normal level. Like several others, he said, he had not received coupons in the denominations asked for. He' had to have them changed. Some operators have been issued with 100-gallon coupons which they cannot use at one time. The manager of of these concerns said that drivers could not leave a credit of 80 gallons to be used at a garage the next time they passed. They might never pass again, or they might need more fuel before they reached their destinations.
Various concerns reported that they had not received their basic rations on the first day of the rationing Scheme.
Retail warehouses and shops in Glasgow have reduced the number of deliveries to outlying districts. Some retailers are meeting the problem by pooling their resources, Where delivery routes coincide, one van is undertaking the work done by several.
On the Glasgow-Perth-Dundee road, some hauliers' lorries are travelling in pairs and after they have delivered their loads, one lorry tows the other vehicle back.