Motor Caravanning.
28th August 1913
Page 4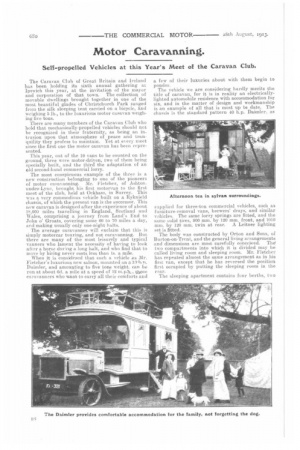 Page 5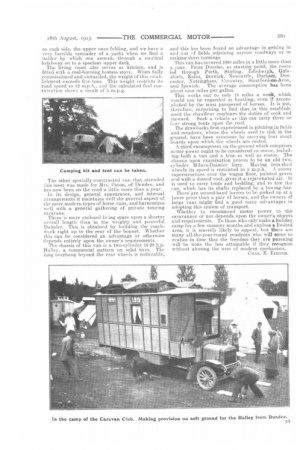 Page 4, 28th August 1913 —
Motor Caravanning.
Close
Self-propelled Vehicles at this Year's Meet of the Caravan Club.
The Caravan Club of Great Britain and Ireland has been holding its sixth annual gathering at Ipswich this year, at the invitation of the mayor and corporation of that town. The collection, of movable dwellings brought together in one of the most beautiful glades of Christchurch Park Yanged from the silk sleeping tent carried on a bicycle, ftnd weighing 5 lb., to the luxurious motor catavan weighing five tons.
There are many members of the Caravan Club who hold that mechanically-propelled vehicles should not be recognized in their fraternity, as being an intrusion upon that atmosphere of peace and tranquility they profess to maintain. Yet at every meet since the first one the motor caravan has been represented.
This year, out of the 19 vans to be counted on the ground, three were motor-driven, two of them being specially built, and the third the adaptation of an old second-band commercial lorry.
The most conspicuous example of the three is a new construction belonging to one of the pioneers of motor caravanning. Mr. Fletcher, of Ashtonundey-Lyne, brought his first inotorv•an to the first meet of the club, held at Ockham, in Surrey. This was a very commodious vehicle built on a Ryknield chassis, of which the present van is the successor. This new caravan is designed after the experience of about le,000 miles travelling in England, Scotland and Wales, comprising a journey from Land's End to John o' Groats, covering some 60 to 70 miles a day, and making usually only one-night halts.
The average caravanner will exclaim that this is simply motorcar touring, and not caravanning. But there are many of the most leisurely and typical vanners who lament the necessity of having to look after a horse clur'ing a lung halt, and who find that to move by hiring never costs less than Ls. a mile. When it is considered that such a vehicle as .Mr. Fletcher's luxurious new saloon, mounted on Daimler, and amounting to five tons weight. can he run at about 6d. a mile at a speed of 12 m.p.h., those c.aravanners who want to carry all their comforts and a few of their luxuries about with them begin to ponder. The vehicle we are considering hardly merits the title of caravan, for it is in reality an electricallylighted automobile residence with accommodation for six, and in the matter of design and workmanship is an example of all that is most up to date. The chassis is the standard pattern 40 h.p. Daimler, as supplied for three-ton commercial vehicles, such as furniture-removal vans, brewers' drays, and similar vehicles. The same lorry springs are fitted, and the same solid tires, 900 mm. by 120 mm. front, and 1010 rum by 120 mm. twin at rear. A Leitner lighting set is fitted.
The body was constructed by Orton and Sons, of Burton-on-Trent, and the general living arrangements and dimensions are most carefully conceived. Thd two compartments into which it is divided may be called living room and sleeping room. Mr. Fletcher has repeated almost the same arrangement as in his first van, except that he has reversed the position first occupied by putting the sleeping room in the rear.
The sleeping apartment contains four berths, two on each side, the upper ones folding, and we have a very forcible reminder of a yacht when we find a ladder by which one ascends through a nautical hatchway on to a spacious upper deck. The living room also serves as kitchen, and is fitted with a coal-burning hostess stove. When fully commissioned and victualled, the weight of this establishment exceeds five tons. This weight restricts its road speed to 12 m.p.h., and the calculated fuel consumption shows a result of 5 m.p.g.
The other specially-constructed van that attended this meet was made for Mrs. l'aton, of Dundee, and has now been on the road a little more than a year.
In its deign, general appearance, and internal arrangements it maintains well the general aspect of the more modern types of horse-vans, and harmonizes well with a general gathering of private touring caravans.
There is more enclosed living space upon a shorter overall length than in the weighty and powerful Daimler. This is obtained by building the coachwork right up to the rear of the bonnet. Whether this can be considered an advantage or otherwise depends entirely upon the owner's requirements.
The chassis of this van is a two-cylinder 16-20 h.p. Halley, a commercial pattern on solid tires. The long overhang beyond the rear wheels is noticeable,
and this has been found an advantage in getting in and out of fields adjoining narrow roadways or in making short turnings.
This van has covered 1000 miles in a little more than a year. From Dundee, as starting point, the route led through Perth, Stirling, Edinburgh, Galashiels, Kelso, Berwick, Newcastle, Durham, Doncaster, Nottingham, Coventry, Stratford-on-Avon, and Ipswich. The average consumption has been about nine miles per gallon.
This works out to only 18 miles a week, which would not be regarded as hustling, even if accomplished by the most pampered of horses. It is not, therefore, surprising to find that in this establishment the chauffeur combines the duties of cook and steward. Such a vehicle as this can carry three or fear strong tents upon the roof. The drawbacks first experienced in pitching in fields and meadows, where the wheels used to sink in the ground, have been overcome by carrying four stout boards upon which the wheels are rested.
A third encampment on the ground which comprises motor power ought to be considered en masse, ineJuding both a van and a tent as well as motor. The chassis upon examination proves to be an old twocylinder Milnes-Daimler lorry. Having iron-shed wheels its speed is restricted to 5 m.p.h. A roomy superstructure over the wagon floor, painted green and with a domed roof, gives it a rejuvenated air. It is used to carry tents and bedding, and to tow the van, which has its shafts replaced by a towing bar.
There are second-hand lorries to be picked up at a lower price than a pair of horses, and the owners of large vans might find a good many advantages in adopting this system of transport.
Whether to recommend motor power to the earavanner or not depends upon the owner's objects and requirements. To those who only make a holiday camp for a few summer months and explore a limited area, it is scarcely likely to appeal, but there are many all-the-year-mond residents who will come to realize in time that the freedom they are pursuing will be none the less attainable if they recognize without abusing the uses of modern mechanism.
CHAS. E. ELDRED.