What Users Tell Us 1 ) , ,L Interview
28th August 1913
Page 13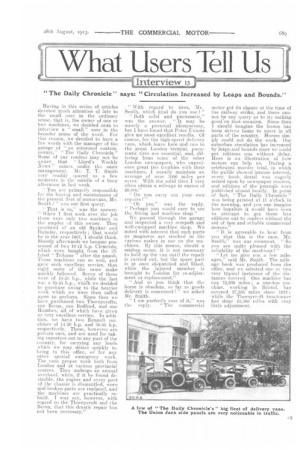 Page 13, 28th August 1913 —
What Users Tell Us 1 ) , ,L Interview
Close
"The Daily Chronicle" says: "Circulation Increased by Leaps and Bounds."
Having in this series of articles devoted much attention of late to the small user in the ordinary sense, that is, the owner of one or two machines, we decided next to interview a " small" user in the broader sense of the word. For this reason, we decided to have a few words with the manager of the garage of " an esteemed contemporary," " The Daily Chronicle." Some of our readers may not be aware that " Lloyd's Weekly News " comes under the same management. xi,. T. T. Smith very readily spared us a few moments in the middle of a busy afternoon in last week.
" You are primarily responsible for the buying and maintenance of the present fleet of motorvans, Mr. Smith ? " was our first query.
" That is so," was the answer. " When I first took over the job there were only two machines in the employ of this owner. They consisted of an old Spyker and Daimler, respectively ; that would be in the year 1907, I should think. Shortly afterwards we became possessed of two 10-12 h.p. Clements, winch were bought from the illfated " Tribune " after the smash. These machines ran so well, and gave such excellent service, that eight more of the same make quickly followed. Seven of these were of 18-28 h.p.. while the last vrai a 35-45 h.p., whieh we decided to purchase owing to the heavier work which we were then called upon to perform. Since then we have purchased two Thornycrofts, one Berna, one Bedford, and one Humber, all of which have given us very excellent service. In addition, we have two Renault machines of 14-20 h.p. and 30-35 h.p. respectively. These, however; are private ears, and are used for taking reporter's out to any part of the country, for carrying any loads which we may desire quickly to bring to this office, or for any other special emergency work. The vans proper work both from London and at various provincial
centres. They undergo an annual overhaul, when, if it he found de sirable, the engine and every part of the chassis is dismantled, worn and broken parts are replaced, and the machines are practically rebuilt.. T may say, however, with regard to the Thornyeroft and the Berna, that this drastic repair has not been necessary." " With regard to tires, Mr. Smith, which kind do you use ? "
" Both solid and pneumatic," was the answer. " It may be merely a personal idiosyncrasy, but I have found that Peter Unions give me most excellent results. Of course, for the high-speed delivery vans, which leave here and run IA) the great London termini, pneumatic tires are essential, and, differing from sonic of the other London newspapers, who experience great tire troubles with their machines, I usually maintain an average of over 3.100 miles per cover. With the solid tires I very often obtain a mileage in excess of 20,000.'
" Do you carry out your own repairs? Oh " Oh yes," was the reply. " Perhaps you would care to see the fitting and machine shop."
We passed through the garage and inspected a very e,mnpatt and well-equip ped machine shop. We noted with interest that such parts as magnetos are stocked in the various makes in use on the machines. By this means, should a mishap occur, it is not necessary to hold up the van until the repair is carried out, but the spare part is at once dispatched and fitted, while the injured member is brought to London for re-adjtistment or replacement," " And so you think that the horse is obsolete, so far as goods delivery is concerned? " we asked Mr. Smith.
" I am perfectly sure of it," was the reply. "''he commercial motor got its chance at the time of the railway strike, and there cannot he any query as to its making good !on that occasion. Since then I should imagine the lesson has been. driven home to users in all parts of the country. Horses simply could not do the work. Our suburban circulation has increased by leaps and bounds since we could get editions out without delay. Here is an illustration of bow motors can help us. During a celebrated murder trial, in which the public showed intense interest, every fresh detail was eagerly seized upon by newspaper readers, arid editions of the journals were published almost hourly. In point of fact, " The Daily Chronicle " was being printed at 11 o'clock in the morning, and you can imagine how hopeless it would have been to attempt. to get these late editions out to readers without the aid of fast and reliable commercial motors."
" It is agreeable to hear from you that this is the case, Mr. Smith," was our comment. "So you are quite pleased with the reliability of the machines?"
" Let me give you ,a few mileages," said Mr. Smith. The mileage book was produced from the office, and we selected one or two very typical instances of the distances covered. One machine has run 72,009 miles ; a. one-ton machine, working in Bristol, has covered 27,535 miles since 1012; while the Thornyernft two-tonner has done -1390 miles with very little adjustment,.