CRIME AND PUNISHMENT
27th October 2011
Page 30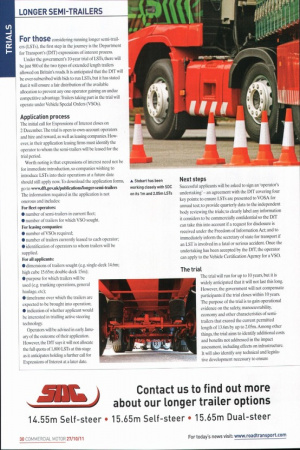 Page 30, 27th October 2011 —
CRIME AND PUNISHMENT
Close
While at VOSA's Leatherhead site we bring in a Silver DAF XF with a light-bar on its roof and pulling a three-axle trailer. The stopping officer on the side of the M25 has either a 15-minute warning of a truck to stop or can use their own experience to spot vehicles for stopping.
On inspection, the Irish DAF was found to be more than 6% overweight on one axle, and had a delayed defect on its trailer and the tractive unit. As the defects were delayed, and the weight only just over VOSA's prohibition trigger (5%) it was given a movement order to take it locally and have the weight moved before returning to the site to be reweighed. The vehicle was issued with prohibitions for being overweight and the mechanical defects. The driver also received a penalty notice for the overweight infringement.
Given the site's location, with plenty of foreign drivers coming in from the Continent, drivers' hours offences are common and while tractors tend to be in good nick, the trailers they haul are typically not so well cared for. VOSA issues a penalty notice to drivers for "absolute offences", such as drivers' hours/overweight vehicle; or in the case of a mechanical defect, if a defect is severe enough to justify an immediate prohibition and VOSA believes the driver should have identified it on their walk-round check.
For drivers from outside the UK, VOSA issues a penalty notice to the operator via his agent (typically the driver). This is the case for all immediate prohibitions where the defect could not have reasonably occurred during the journey. Leatherhead has land where rest periods can be enforced or vehicles immobilised. The largest roadside fine VOSA can deliver is £900, or a notice of prosecution will be issued ahead of a court appearance.