SDC TRAILERS
27th October 2011
Page 25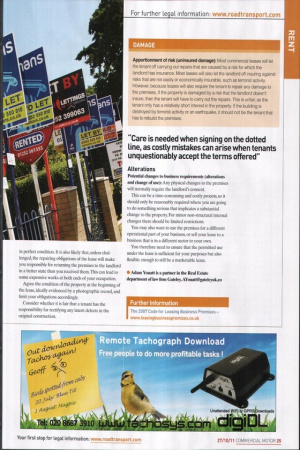 Page 25, 27th October 2011 —
SDC TRAILERS
Close
SDC Trailers, one of the UK's biggest trailer builders, is at the forefront of trailer design and has been working closely with customers in the run-up to the new trailer trials to ensure its designs are fit for purpose.
SDC MD Mark Cuskeran, says: "We have built both 14.6m and 15.6m trailers with command and self-steering axles, so we have a good working knowledge of the subject. Furthermore, we have adapted the factory to deal with the longer trailers and have the capacity to build trailers quickly for those companies that are successful in applying for trial certification." Cuskeran welcomes the new regulations and is keen to work with customers to develop longer trailer solutions to match their operational requirements. The firm has already built three new-length trailers for customer trials and is keen to establish itself as a leader in this field.
The latest long-length trailer to roll off the line is a 15.6m unit with self-steer axles, which due to the axle loading regulations is rated for operation at 42 tonnes. "This is one-tonne lighter than a trailer equipped with an active-steer axle," says Cuskeran, "and may prove to be a popular choice with those operators cubing out before they max out on weight." The decision to allow the trials takes away all the market uncertainty, Cuskeran adds. "As well as the obvious environmental and operational benefits which will result from the use of LSTs, the minister's announcement also gives the industry some clarity on the government's thinking in this area for the next 10 years. We know a lot of customers have been waiting to see what will happen on longer trailers before making their trailer-buying decisions. Operators can now base their decision on some firm facts." As well as bringing innovation to longer trailer designs, SDC has a full range of trailer chassis, skeletals, box bodies, curtainsiders and tippers to suit a wide range of operational requirements.