Don't sign your life away
27th October 2011
Page 19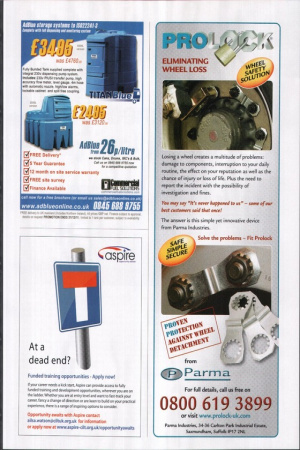 Page 20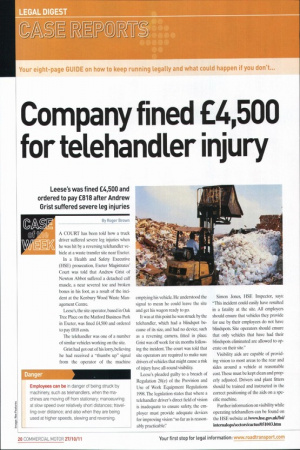 Page 19, 27th October 2011 —
Don't sign your life away
Close
Operators renting new premises should read the small print carefully to avoid taking on expensive responsibilities
Words: Adam Youatt Even in these troubled economic times, some businesses are expanding and their owners need to lease a new operating centre. But care is needed before signing on the dotted line, as costly mistakes can arise when tenants unquestioningly accept the terms offered by landlords.
Leasing
Length of the lease (term): The average length of a commercial property lease has been falling in recent years. Tenor 15-year terms are often the norm for ofice lets, along with the right for the tenant to terminate the lease after ive and 10 years.
For industrial premises, such as a haulage yard, short-term six-year leases are widely available. A tenant also pays less stamp duty land tax on a shorter term.
Termination
Conditions to terminating early (break clauses): Rights to terminate early have usually been subject to strict compliance with pre-conditions that tripped up tenants on technicalities.
Therefore, the starting position of negotiations should be an unconditional right to terminate early. At the most, the only conditions that should be accepted are those recommended by the Lease Code for Leasing Business Premises, being that the annual rent is up to date, occupation is given up and there are no continuing sub-leases.
Liability
Ability to pass on your liability (alienation): A business may ind itself in the position of having leased space it no longer requires.
In these circumstances, the ability to easily off-set or off-load that liability, without onerous restrictions, is important. Landlords are keen to keep tight control over the terms of any sale or under-letting of a tenant's lease, but both are ways a tenant can either pass on or reduce the cost of leased premises. Any restrictions should be reasonable.
Increases
Fair rental increases (rent review): While the initial rent will be a known ixed amount, your landlord will want to review your rent – normally every ive years.
As the Lease Code states, the rules by which the rent can be changed need to be clear and understandable. The market norm is for upwards only rent. However, other methods of review are becoming more widespread, particularly index-linked reviews.
A tenant may also be able to negotiate a maximum uplift percentage giving certainty as to its overall costs in future years.
Repairs
Maintenance obligations (repair covenant): Unless you are taking brand new premises, it is likely they will not be in perfect condition. It is also likely that, unless challenged, the repairing obligations of the lease will make you responsible for returning the premises to the landlord in a better state than you received them. This can lead to some expensive works at both ends of your occupation.
Agree the condition of the property at the beginning of the lease, ideally evidenced by a photographic record, and limit your obligations accordingly.
Consider whether it is fair that a tenant has the responsibility for rectifying any latent defects in the original construction.
Alterations
Potential changes to business requirements (alterations and change of use): Any physical changes to the premises will normally require the landlord's consent.
This can be a time-consuming and costly process, so it should only be reasonably required where you are going to do something serious that implicates a substantial change to the property. For minor non-structural internal changes there should be limited restrictions.
You may also want to use the premises for a different operational part of your business, or sell your lease to a business that is in a different sector to your own.
You therefore need to ensure that the permitted use under the lease is suficient for your purposes but also lexible enough to still be a marketable lease.