" Heavies " on the Highway in America A RECENT 900-mile
27th November 1936
Page 52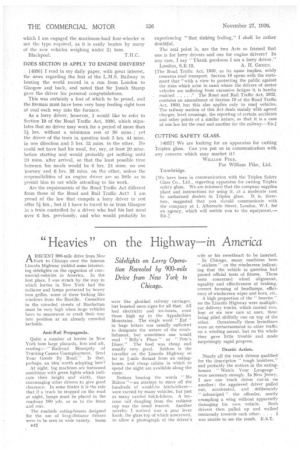 Page 52, 27th November 1936 —
" Heavies " on the Highway in America A RECENT 900-mile
Close
drive from New York to Chicago over the famous Lincoln Highway yielded some interesting sidelights on the opeption of commercial-vehicles in America. In the first place, I was struck by the way in which lorries in New York had the radiator and lamps protected by heavy iron grilles, some of these looking like windows from the Bastille. Casualties in the crowded streets of Manhattan must be very high when large vehicles have to manceuvre or crash their way into position at an already crowded kerbside.
Anti-Rail Propaganda.
Quite a number of lorries in New York bore large pheards, fore and aft, reading :—" Railroad Monopoly of Trucking Causes Unemployment. Send Your Goods By Road." Is that, perhaps, an idea worth adopting here?
At night, big machines are festooned amidships with green lights which indicate their height and width, thus encouraging other drivers to give good clearance, In some States it is the rule that if a truck be stopped on the road at night, lamps must be placed in the roadway 100 yds. or so to the front and rear.
The roadside eating-houses designed for the use of long-distance drivers were to be seen in wide variety. Some B92
were like glorified railway carriages, but boasted neonsigns for all that. All had electricity and ice-boxes, even those high up in the Appalachian Mountains. The single word " Eat '' in huge letters was usually sufficient to designate the nature of the establishment, but sometimes one would read " Billy's Place " or " Pete's Diner." The food was cheap and usually very good. Seldom is the traveller on the Lincoln Highway so far as i.mile distant from an eatinghouse, and cheap cabins in which to spend the night are available along the route.
Notices bearing the words " No Riders "—an attempt to stave off the hundreds of would-he hitch-hikerswere carried by many vehicles, but just as many carried hitch-hikers. A raccoon tail dangling from the radiator cap was the usualmascot. Another novelty I noticed was a gear lever knob, the glass top of which unscrewed, to allow a photograph of the driver's
wife or his sweetheart to be inserted.
In Chicago, many machines bore " stickers " on the windscreen indicating that the vehicle in question had passed official tests of fitness. These. tests concerned wheel alignment, equality and effectiveness of braking, correct focusing of headlamps, efficiency of windscreen wiper and horn, etc.
A high proportion of the " heavies " on the Lincoln Highway were multiple car delivery trucks, which carried two. • four or six new cars at once, these being piled skilfully one on top of the other. Occasionally these leviathans were an embarrassment to other traffic on a winding ascent, but on the whole they gave little trouble and made surprisingly rapid progress.
Drastic Action.
Nearly all the truck drivers qualified for the description " tough hombres," and probably the notices in the eatinghouses " Watch Your Language" were necessary enough. In New Jersey, I saw one truck driver cut-in on another ; the aggrieved driver pulled out, accelerated, and deliberately " sideswiped " the offender, neatly crumpling a wing without apparently damaging his own vehicle. Both drivers then pulled up and walked ominously towards each other. . . I was unable to see the result. E.S.T.