1896 Emancipation 1936 Subjugation
27th November 1936
Page 41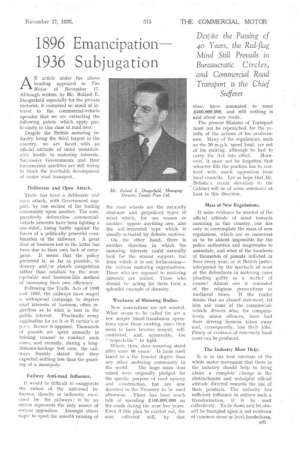 Page 41, 27th November 1936 —
1896 Emancipation 1936 Subjugation
Close
AN article under . the above heading appeared in The Motor of November 17. Although written by Mr. Roland E. Dangerfield especially for the private motorist, it contained so much of interest to the commercial-vehicle operator that we are extracting the following points which apply particularly to this class of road user.
Despite the British motoring industry being the third largest in the country, we are faced with an official attitude of mind unmistakably hostile to motoring interests. Successive Governments and their bureaucratic satellites are still trying to block the inevitable development of motor road transport.
Deliberate and Open Attack.
There has been a deliberate and open attack, with Government support, by one sectionof the trading community upon another. The comparatively defenceless commercialvehicle interests have been fighting a one-sided, losing battle against the forces of a politically powerful combination of the railways. A great deal of business lost to the latter has been due to their own lack of enterprise. It seems that the policy preferred is, so far as possible, to destroy and/or absorb competition rather than retaliate by the more equitable and business-like method of increasing their own efficiency.
Following the Traffic Acts of 1930 and 1933, the railways have waged a widespread campaign to deprive road interests of business, often regardless as to what is best in the public interest Practically every application for an A or B carrier's or p.s.v. licence is opposed. Thousands of pounds are spent annually in briefing counsel to conduct Mich cases, and recently, during a longdistance-haulage test case, the railways frankly stated that they expected nothing less than the granting of a monopoly.
Railway Anti-road Influence.
It would be difficult to exaggerate the extent of the anti-road influence, directly or indirectly exercised by the railways ; it by no means represents the only source of serious opposition. Amongst others eager to 'upset the smooth running of
the road wheels are the naturally obstinate and prejudiced types of mind which, for one reason or another, oppose anything new, also the self-interested type which is usually actuated by definite motives. . On the other hand, there is another direction in which the motoring interests could naturally look for the utmost support, but from which it is not forthcoming— the various motoring organizations. Those who are opposed to motoring interests are united. Those who should be acting for them form a splendid example of disunity.
Weakness of Motoring Bodies.
New associations are not wanted. What seems to be called for are a few simple blood-transfusion operations upon those existing, since they seem to have become insipid, sellcontented, and, apparently, too " respectable " to fight.
Where, then, does motoring stand after some 40 years? Ib finds itself taxed to a far heavier degree than any other motoring community in theworld. The huge sums thus raised were originally pledged for the specific purpose of road upkeep and construction, but are now diverted to the Treasury to be used otherwise. There has been much talk of spending £140,000,000 on the roads during the next five years. Even if this plan be carried out, the sum collected will, by that time, have amounted to some £400,000,000, and still nothing is said about new roads.
The present Minister of Transport must not be reproached for the results of the actions of his predecessors. Many of the regulations, such as the 30 m.p.h. speed limit, are not of his making, although he had to
carry the Act into effect. Moreover, it must not be forgotten that whoever fills the position has to contend with much opposition from local councils. Let us hope that Mr. Belisha's recent elevation to the Cabinet will be of some assistance at least in this direction.
Mass of New Regulations.
If more evidence be wanted of the official attitude of mind towards motoring in this country, one has only to contemplate the mass of new regulations, which are so numerous as to be almost impossible for the police authorities and magistrates to assimilate, and what of the hundreds of thousands of pounds inflicted in fines every year, or of British justice interpreted by the spectacle of most of the defendants in motoring cases pleading guilty as a matter of course? Almost one is reminded of the religious Persecutions in medival times. If the reader thinks that an absurd statement, let him ask some of the commercialvehicle drivers who, for comparatively minor offences, have had their driving licences taken away arid, consequently, lost their jobs. Plenty of evidence of extremely hard cases can be produced.
The Industry Must Help.
It is in the best interests of the whole motor movement that those in the industry should help to bring about a complete change in the obstructionist and unhelpful official attitude directed towards the use of their products. The industry has sufficient influence to enforce such a transformation, if it be used collectively. To lie down and let oneself be trampled upon is not evidence of common sense or level-headedness.