Personal Pars
27th November 1936
Page 34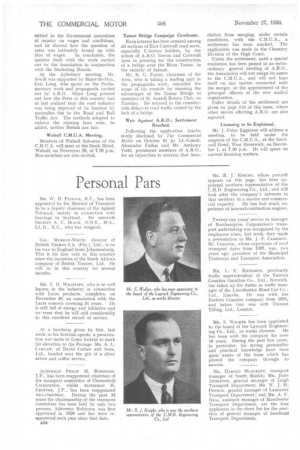 Page 34, 27th November 1936 —
Personal Pars
Close
MR. W. D. PATRICK, K.C., has been appointed by the Minister of Transport to be a deputy chairman of the Appeal Tribunal, mainly in connection with hearings in Scotland. He succeeds SHERIFF A. C. BLACK, 0.B.E., LL.B., KC., who has resigned.
COI.. MURRAY-WHITE, director Of British Timken S.A. (Pty.), Ltd., is on his way to England from Johannesburg. This is his first visit to this country Since the inception of the South African company of British Timken, Ltd. He will be in this country for several months.
MR. T. H. WAGSTAFF, who is SO well known in the industry in connection with Lacre products, completes, on November 30, an association with the Lacre concern covering 31 years. He is still full of energy and initiative and we trust that he will add considerably to this excellent record of service.
At a luncheon given by him, last week, to his Scottish agents, a presentation was made to LORD AUSTIN to mark his elevation to the Peerage. MR. A. CARLAW, of David Carlaw and Sons. Ltd., handed over the gift of a silver salver and coffee service.
ALDERMAN PHILIP M. ROBINSON,
J.P., has been reappointed chairman of the transport committee of Chesterfield Corporation, Whilst ALDERMAN H. CROPPER, J.P., has been reappointed vice-chairman. During the past 32 years the chairmanship of the transport committee has been held by only two persons, Alderman Robinson was first appointed in 1920 and has been reappointed each year since that date.
1124
MR. R. J. KNIGHT, whose portrait appears on this page, has been appointed northern representative of the C.M.D. Engineering Co., Ltd., and will look after the company's interests in that territory in a service and commercial capacity. He has had much experience of internal-combustion engines.
Twenty-one years' service as manager of Northampton Corporation's transport undertaking was recognized by the employees when, last week, they made a presentation to MR. J. F. CAMERON. Mr. Cameron, whose experience of road transport dates from 1897, was, two years ago, president of the Municipal Tramways and Transport Association.
MR. L, E. RICHARDS, previously. traffic superintendent of the Eastern Counties Omnibus Co., Ltd., Norwich, has taken up his duties as traffic mall
Mr. S. Walker, toho has been appointed to the board of the Lancock Engineering Co., ager of the Lincolnshire Road Car Co., Ltd., Lincoln. He was with the Ltd., as works director. Eastern Counties company from 1931, and before that was with Thomas Tilling, Ltd., London.
Mu. S. WALKER has been appointed to the board of the Laycock Engineer
ing Co., Ltd., as •works director. He has been with the company for over 18 years. During the past five years, in particular, his strong personality and practical knowledge have been great assets of the team which has piloted the company through to success.
Ma. HAROLD MUSCROFT, transport manager of South Shields; MR. JOHN ATHERTON, general manager of Leigh Transport Department; MR. W. J. H. PENMAN, general manager of Lancaster Transport Department ; and MR. A. F. NEAL, assistant manager of Manchester Transport Department, are the four applicants in the short list for the position of general manager of Southend Transport Department.
Tags
People
:
J. F. CAMERON
,
W. D. PATRICK
,
PHILIP M. ROBINSON
,
R. J. KNIGHT
,
S. Walker
,
HAROLD MUSCROFT
,
JOHN ATHERTON
,
A. F. NEAL
,
A. CARLAW
,
J. H. PENMAN
,
T. H. WAGSTAFF