Drawing a Bus at a Venture
27th November 1936
Page 32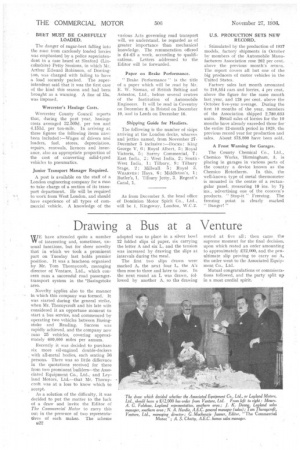 Page 32, 27th November 1936 —
Drawing a Bus at a Venture
Close
Keywords :
WE have attended quite a number of interesting and, sometimes, unusual functions, but for sheer novelty that in which we took a prominent part on Tuesday last holds premier position. It was a luncheon organized by Mr. Tom Thornycrolt, managing director of Venture, Ltd., which concern runs a successful road passengertransport system in the 'Basingstoke area.
Novelty applies also to the manner in which this company was formed. It Was started during the general strike, when Mr. Thornycroft and his late wife considered it an opportune moment to start a bus service, and commenced by operating two vehicles between Basingstoke and Reading. Success was rapidly achieved, and the company now runs 25 vehicles, covering approximately 600,000 miles per annum.
Recently it was decided to purchase six more oil-engined double-deckers , with all-metal bodies; each seating 56 persons. There was so little difference in the quotations received for these from two prominent 'builders—the Associated Equipment Co., Ltd.,and Leyland Motors, Ltd.—that Mr, Thornycroft was at a loss to know which to accept.
As a solution of the difficulty, it was decided to put the matter to the luck of a draw and invite the Editor of The Commercial Motor to carry this out in the presence of two representa, tives of each maker. The scheme
n22 adopted was to place in a silver bowl 12 folded slips of paper, six carrying the letter A and six L, and the tension was increased by drawing the slips at intervals during the meal.
The first two slips drawn were marked A, the next four L, the A's then rose to three and later to :our. In the next round an L was drawn, followed by another A. so thi drawing rested at five all ; then came the supreme moment for the final decision, upon which rested an order amounting to approximately 212,000, and the penultimate, slip proving to carry an' A, the order went to the Associated Equipment Co., Ltd.
Mutual congratulations or commiserations followed, and the party split up in a most cordial spirit.