BEET MUST BE CAREFULLY LOADED.
27th November 1936
Page 32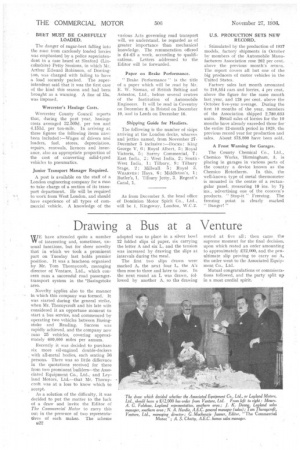 Page 32, 27th November 1936 —
BEET MUST BE CAREFULLY LOADED.
Close
Keywords :
The danger of sugar-beet falling into the roan from carelessly loaded lorries was emphasized by a police superintendent in a case heard at Sleafonl (Lincolnshire) Petty Sessions, in which Me. Arthur Edward Robinson, of Dorriogton, was charged with failing to have a load securely packed. The superintendent said that it was the first case of the kind this season and had been brought as a warning. A fine of was imposed.
Worcester's Haulage Casts.
Worcester County Council reports that, during the past year, hauiage costs averaged 32.509d. per ton and 4.151d. per ton-mile. In arriving al. these figures the following items have been included :—Wages of drivers and loaders, fuel, stores, depreciation, repairs, renewals, licences and insurance, also an appropriate proportion of the cost of converting solid-ty-red vehicles to pneumatics.
Junior Transport Manager Required.
A post is available on the staff of a London engineering company for a man to take charge of a section of its transport department. He will be required to work from West London, and should have experience of all types of commercial vehicle. A knowledge of the various Acts governing road transport will, we understand, be regarded as of greater importance than mechanical knowledge. The remuneration offered is £4-£5 a week, according to qualifications. Letters addressed to the Editor will be forwarded.
Paper on Brake Performance.
" Brake Performance " is the title of a paper which will be read by Mr. E. NV. Sisman, of British Belting and Asbestos, Ltd., before several centres of the Institution of Automobile Engineers. It will be read in Coventry on December 8, in Bristol on December 10, and in Leeds on December 16.
Shipping Guide for Hauliers.
The following is the number of ships arriving at the London docks, wharves and jetties named, from November 27December 5 inclusive :—Docks: King George V, 0; Royal Albert, ; Royal Victoria, ; Surrey Commercial, 7; East India, 2: West India, 2 ; South • West India, 1; Tilbury,. 8; Tilbury Stage, 2; MillwaIl. 5; Royal 3. WHARVES Hays, 0: Middleton's, I; Butler's, 1.. Tilbury Jetty, 3. Regent's Canal, 1, As from December 5, the head office of Dominion Motor Spirit Co., Ltd., will be 1, Kingswa.y, London, W.C.2. U.S. PRODUCTION SETS NEW RECORD.
Stimulated by the production of 1937 models, factory shipments in October by members of the Automobile Manufacturers Association rose 262 per cent. above the previous month's return. The report covers all but one of the big producers of motor vehicles in the United States.
Factory sales last month amounted to 216,554 cars a:nd lorries, 4 per cent. above the figure for the same mouth last_year, and 128 per cent. above the October five-year average. During the first 10 months of the year, members of the Association shipped 2,780,633 units. Retail sales of lorries for the 10 months have already exceeded those for • the entire 12-month period in 1929, the previous record year-for production and sales. About 575,000 have been sold.
A Frost Warning for Garages.
The County Chemical Co., Ltd., Chemico Works, 'Birmingham, 5, is placing in garages in various parts of the 'country a device known as the Chemico Rototherm. In this, the well-known type of metal thermometer is mounted in the centre of a rectangular panel, measuring 18 ins. by 7/1, ins., advertising one of the concern's products, " Stop-it " Freezing. The freezing point is clearly marked " Danger! "