" CROSVILLE" STARTS BIG PARCELS SERVICE.
27th November 1936
Page 31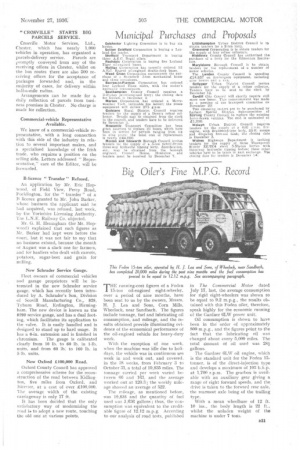 Page 31, 27th November 1936 —
" CROSVILLE" STARTS BIG PARCELS SERVICE.
Close
Keywords :
Crosville : Motor Services, Ltd.., Chester, which has nearly 1,000 vehicles in operation, has organized a parcels-delivery service. Parcels are promptly conveyed from any of the receiving offices in Chester, whilst on the bus routes there are also 500 receiving offices for the acceptance of packages forwarded and, in the majority of cases, for delivery within half-a-mile radius.
Arrangements can be made for a daily collection of parcels from business premises in Chester. No charge is made for collection, Commercial-vehicle Representative Available.
We know of a commercial-vehicle representative, with a long connection with this side of the industry in relation to several important makes, and a specialized knowledge of the Irish trade, who requires a position on the selling side. Letters addressed " Representative," care of the Editor, will be ft; rwarded B-licence " Transfer" Refused.
An application by Mr. Eric Hopwood, of of Field View, Percy Road, Pockliagton, for the " transfer " of a B licence granted to Mr. John Barker, whose business the applicant said he had acquired, was refused, last week, by the Yorkshire Licensing Authority. '.the L.N.E. Railway Co. objected.
Mr. G. H. Heningha.m (for Mr. Hopwood) explained that such figures as Mr. Barker had kept were before the court, but it was not fair to say that no business existed, because the month of August was a slack one for farmers, and for hauliers who dealt with carrots, potatoes, sugar-beet and grain for milling.
New Schrader Service Gauge.
Fleet owners of commercial vehicles and garage proprietors will be interested in the new Schrader service gauge, which has recently been introduced by A. Schrader's Son, DiNision of Sc.ovill Manufacturing Co., 829, Tyburn Road, Erdington, Birmingham. The new device is known as the 8290 service gauge, and has a dual footing, which facilitates its application to the valve. It is easily handled and is designed to stand up to hard usage. It has a 6-in, extension and is finished in chromium. The gauge is calibrated clearly from 10 lb. to 60 lb. in 1-1b. units, and from 60 lb: to 160 lb. in 5-1h. units.
New Oxford £100,000 Road.
Oxford County Council has approved a comprehensive scheme for the reconstruction. of the road between KidIington, five miles from Oxford, and Bicester, at a cost of over £100,000. `I he average width of the existing carriageway is only 17 ft.
It has been decided that the only satisfactoiy way of modernizing the road isto adopt a new route, touching the old one at various points.