Complications Arise from Haulage Pact
27th November 1936
Page 30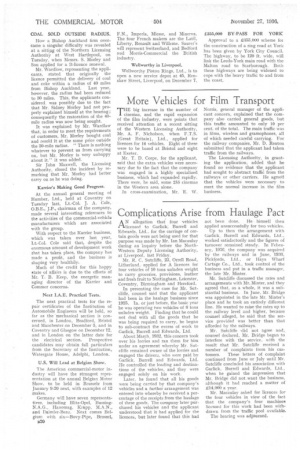 Page 30, 27th November 1936 —
Complications Arise from Haulage Pact
Close
AN allegation that' four vehicles 1—ilicensed to Garlick, Burrell and Edwards, Ltd.. for the carriage of certain goods were not being used for that purpose was made by Mr. Ian Macaulay during an 'inquiry before the NorthWestern Deputy. Licensing Authority, at Liverpool. last Friday.
Mr. R. C. Sutcliffe, 23, Orrell Road, Litherland,• applied for A licences for four vehicles of 10 tons unladen weight to carry groceries, provisions, leather and fresh fruit to Nottingham, Leicester, Coventry, Birmingham and Hereford.
In presenting the case for Mr. Sutcliffe, counsel said that the applicant had been in the haulage business since 1925. In. or just before, the basic year he was operating two vehicles of 6 tons unladen weight. Finding that he could not deal with all the goods that he was being required to carry, he began to sub-contract the excess of work to Garlick, Burrell and Edwards, Ltd.
About March, 1932, this concern took over his lorries and ran them for him under an agreement whereby Mr. Sutcliffe remained owner of the lorries and engaged the driver3, who were paid by Garlick, Burrell and Edwards, Ltd, He controlled the loading and destinations of the vehicles, and they were engaged solely on his work.
Later, he found that all his goods were being carried by that company's vehicles and a further arrangement was entered into whereby he received a percentage of the receipts from the haulage of these goods. The company later purchased his vehicles and the applicant understood that it had applied for the licences, but later found that this had not been done. He himself then applied unsuccessfully for two vehicles. Up to then the arrangement with Garlick. Burrell and Edwards, Ltd., worked satisfactorily and the figures of turnover remained steady. In February, 1936. the company was acquired by the railways and in June, 1936, Pickfords, Ltd., or Hays Wharf Cartage Co., Ltd., took control of the business and put in a traffic manager, the late Mr. Minter.
Mr. Sutcliffe discussed the rates and arrangements with Mr. Minter, and they agreed that, as a whole, it was a sub stantial business. In June, Mr. Bridge was appointed in the late Mr. Minter's place and he took an entirely different line. He wanted to raise the rates up to the railway level and higher, because counsel alleged, he said that the service provided was better than that afforded by the railways.
Mr. Sutcliffe •did not agree and, counsel declared, Mr. Bridge began to interfere with the service. with the result that Mr. Sutcliffe received a number of complaints from his cus tomers. These letters of complaint continued from June or July until Mr. Sutcliffe concluded his association with Garlick, Burrell and Edwards, Ltd., when he gained the impression that Mr. Bridge did not want the business, although it had reached a matter of £14,000 a year.
Mr. Macaulay asked for licences for the four vehicles in view of the fact that the company's four machines licensed for this work had been withdrawn from the traffic pool available. The hearing was adjourned.