Karrier's Programme for 1937 N ° great changes are to take
27th November 1936
Page 28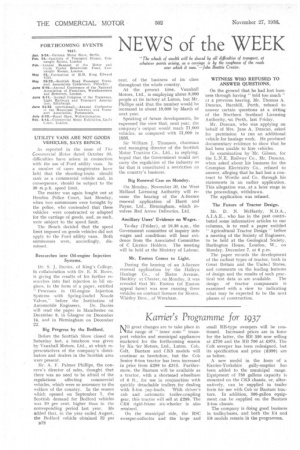 Page 28, 27th November 1936 —
Karrier's Programme for 1937 N ° great changes are to take
Close
Keywords :
place in the range of " inner zone " transport vehicles and municipal appliances marketed for the forthcoming season by Ka: -ier Motors, Ltd., Luton. Cob, Colt, Bantam and CK3 models will continue as heretofore, but the Cob Senior 6-ton tractor has been increased in price from £299 to £315. Furthermore, the Bantam will he available as a tractor, with a shortened wheelbase of 6 ft., for use in conjunction with quickly detachable trailers for dealing
with 5-ton pay-loads. With driver's cab and automatic trailer-coupling gear, this tractor will sell at £299. The CK6 rigid-frame six-wheeler is also retained, On the municipal side, the RSC sweeper-collector and the large and small RB-type sweepers will be continued. Increased prices are in force for the latter, the RI3 350 now selling at £750 and the RB 700 at £975. The Colt sweeper has been redesigned, but its specification and price (£399) are as before.
A new model in the form of a Karrier-Yorkshire gully-emptier has been added to the municipal range. Equipment of 750 gallons capacity is mounted on the CK3 chassis, or, alternatively, can be supplied in trailer form for use with Cob or Bantam tractors. In addition, 500-gallon equipment can be supplied on the Bantam 2-ton chassis.
The company is doing good business in troIleybuSes, and both the Ea and E6 models remain in the programme.