Will the Steamer Revive ?
27th November 1936
Page 25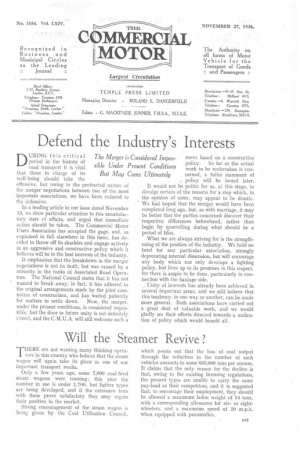 Page 26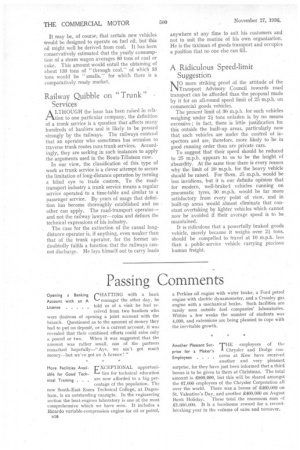 Page 25, 27th November 1936 —
Will the Steamer Revive ?
Close
r-rHERE are not wanting many thinking opera]. tors in this country who believe that the steam wagon will again take its place as one of our important transport media.
Only a few years ago, some 7,000 coal-fired steam wagons were running ; this year the number in use is under 1,700, but lighter types are being deVeloped, and if the extensive tests with these prove satisfactory they may regain their position in the market.
Strong encouragement of the. steam wagon is being given by the Coal Utilization Council, which points out that the loss of coal output through the reduction in the number of such vehicles amounts to some 665,000 tons per annum. It claims that the only reason for the decline is that, owing to the existing licensing regulations, the present types are unable to carry the same pay-load as their competitors, and it is suggested that, to encourage their employment, they should be allowed a maximum laden weight of 14 tons, with a corresponding allowance for sixor eightwheelers, and a maxirrium speed of 20 m.p.h. when equipped with pneumatics. It may be, of course, that certain new vehicles would be designed to operate on fuel oil, but this oil might well be derived from coal. It has been conservatively estimated that the yearly .consumplion of a steam wagon averages 80 tons of coal or coke. This amount would entail the obtaining of about 133 tons of "through coal," of which 53 tons would be "smalls," for which there is a comparatively ready market.
Railway Quibble on " Trunk " • Services •
AA LTHOUGH the issue has been raised in rela..tion to one particular company, the definition of a trunk service is a question that -affects many hundreds of hauliers and is likely to be pressed strongly by the railways. The railways contend that an operator who sometimes has occasion to traverse trunk routes runs trunk services. Accordingly, they are seeking in such instances to apply the arguments used in the Bouts-Tillotson case.
In our view, the classification of this type of work as trunk service is a clever attempt to secure the limitation of long-distance operation by turning a blind eye to trade custom. To the roadtransport industry a trunk service means a regular service operated to a time-table and similar to a passenger service. By years of usage that definition has become thoroughly established and no other can apply. The road-transport operator— and not the railway lawyer—coins and defines the technical expressions of his industry.
The case for the extinction of the casual longdistance operator is, if anything, even weaker than that of the trunk operator, for the former undoubtedly fulfils a function that the railways cannot discharge. He lays himself out to carry loads anywhere at any time to suit his customers and not to suit the routine of his own organization. He is the taximan of goods transport and occupies a position that no one else can fill.
A Ridiculous Speed-limit Suggestion
NO more striking proof of the attitude of the Transport Advisory Council towards road transport can be afforded than the proposal made by it for an all,round speed limit of 25 m.p.h. on commercial goods vehicles.
The present limit of 30 m.p.h. for such vehicles weighing under 21 tons unladen is by no means excessive ; in fact, there is little justification for this outside the built-up areas, particularly now that such vehicles are under the control of inspectors and are, therefore, more likely to be in good running order than are private cars.
To suggest that their speed should be reduced to 25 m.p.h. appears to us to be the height_ of absurdity. At the same time there is every reason why the limit of 20 m.p.h. for the heavy vehicle should be raised. For them, 25 m.p.h. would be less invidious, but it is our definite opinion that for modern, well-braked vehicles running on pneumatic tyres, 30 m.p.h. would be far more satisfactory from every point of view, and in built-up areas would almost eliminate that constant overtaking by lighter vehicles which cannot now be avoided if their average speed is to be maintained.
It is ridiculous that a powerfully braked goods vehicle, merely because it weighs over 21 tons, should be compelled to travel at 10 rn.p.h. less than a public-service vehicle carrying precious human freight.