Defend the Industry's Interests
27th November 1936
Page 25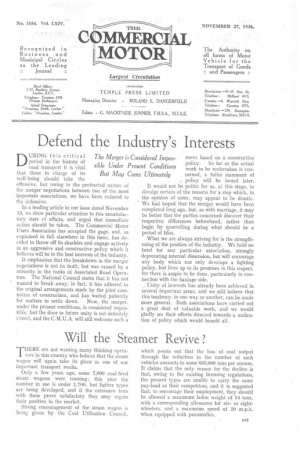 Page 25, 27th November 1936 —
Defend the Industry's Interests
Close
DURING this critical period in the history of road transport it is vital that those in charge of its well-being should take the offensive, but owing to the protracted nature of the merger negotiations between two of the most important associations, we have been reduced to the defensive.
In a leading article in our issue dated November 13, we drew particular attention to this unsatisfactory state of affairs, and urged that immediate action should be taken. The Commercial Motor Users Association has accepted the gage, and, as explained in full elsewhere in this issue, has decided to throw off its shackles and engage actively in an aggressive and constructive policy which it believes will be in the best interests of the industry.
It emphasizes that the breakdown in the merger negotiations is not its fault, but was caused by a minority in the ranks of Assoeiated Road Operators. The National Council states that it has not wanted to break away; in fact, it has adhered to the original arrangements made by the joint committee of construction, and has waited patiently for matters to settle down. Now, the merger. under the present conditions, is considered impossible, but the 'door to future unity is not definitely closed, and the C.M.U.A. will still welcome such a move based on a constructive policy. So far as the actual work to be undertaken is concerned, a fuller statement of policy will be issued later.
It would not be politic for us, at this stage, to divulge certain of the reasons for a step which, in the opinion of some, may appear to be drastic. We had hoped that the merger would have been completed long ago, but, as with marriage, it may be better that the parties concerned discover their respective differences beforehand, rather than begin by quarrelling during what should be a period of bliss.
What we are always striving for is the strengthening of the position of the industry. We hold no brief for any particular association, strongly deprecating internal dissension, but will encourage any body which not only develops a fighting policy, but lives up to its promises in this respect, for there is ample to be done, particularly in connection with the haulage side.
Unity of interests has already been achieved in several important areas, and we still believe that this.tendency, in one way or another, can be made more general. Both associations have carried out a great deal of valuable work, and we would gladly see their efforts directed towards a unification of policy which would benefit all.