LEAVES FROM THE INSPECTOR'S NOTEBOOK.
27th May 1919
Page 9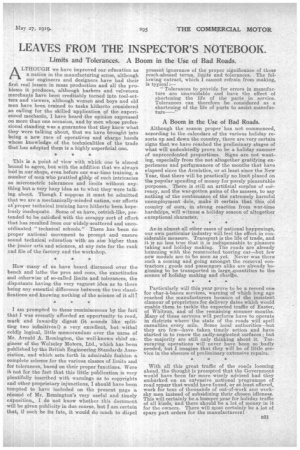 Page 9, 27th May 1919 —
LEAVES FROM THE INSPECTOR'S NOTEBOOK.
Close
Limits and Tolerances. A Boom in the Use of Bad Roads.
ALTFIOUGH we have improved our education as a nation in the manufacturing sense, although our engineers and designers have had their first real lesson in Mass production and all the problems it produces, although barbers and velveteen merchants have been creditably turned into tool-setters and viewers, although women and boys and old men have been trained to tasks hitherto considered as calling for the skilled application of the experienced mechanic, I have heard the opinion expressed on more than one occasion, and by men whose professional standing was a guarantee that they knew what they were talking about, that we have brought into being a new race of operatives and charge hands whose knowledge of the technicalities of the trade that has adopted them is a highly superficial one.
This is a point of view with which one is almost bound to agree, but with the addition that we always had in our shops, even before our war-time training, a number of men who prattled glibly of such intricacies as micrometric tolerances and limits without anything but a very hazy idea as to what they were talking about. Though I suppose it must be admitted that we are a mechanically-minded nation, our efforts aeproper technical training have hitherto been hopelessly inadequate. Some of us have, ostrich-like, pretended to be satisfied with the scrappy sort of effort that has resulted from our widely-scattered and uncoordinated "technical schools." There has been no proper national movement to prompt and ensure sound technical education with an aim higher than the junior arts and sciences, at any rate for the rank and file of the factory and the workshop.
How many of us have beard discussed over the bench and lathe the pros and cons, the exactitudes and otherwise of so-called limits and tolerances, the disputants having the very vaguest idea as to there being any essential difference between the two classifications and knowing nothing of the science of it all7 I am prompted to these reminiscences by the fact that I was recently afforded an opportunity to read, mark and inwardly digest (it sounds like splitting two infinitives!) a very excellent, but withal coldly logical, little memorandum over the name of Mr. Arnold A. Remington, the well-known chief engineer of the Wolseley Motors, Ltd., which has been published by the British Engineering Standards Association, and which sets forth in admirable fashion a complete scheme for the various classes of limits and for tolerances, based on their proper functions. Were it not for the fact that this little publication is very plentifully inscribed with warnings as to copyrights and other proprietary injunctions, I should have been tempted to have included on the present page a resume of Mr. Remington's very useful and timely exposition. I do not know whether this document will be given publicity in due course, but I am certain that, if such be its fate, it would do much to dispel present ignorance of the proper significance of those much-abused terms, limits and tolerances. The following extract, which I cannot refrain from making, is typical:— "Tolerances to provide for errors in manufacture are unavoidable and have the effect of shortening the life of the parts in service. Tolerances can therefore be considered as a shortening of the life of parts to assist manufacture "
A Boom in the Use of Bad Roads.
Although the season proper has not commenced, according to the calendars of the various holiday resorts up and down the country, there are very certain signs that we have reached the preliminary stages of what will undoubtedly prove to be a holiday summer of unprecedented proportions. Signs are not wanting, especially from the •not altogether gratifying experiences and performances of the months that have elapsed since the Armistice, or at least since the New Year, that there will be practically no limit placed on the popular spending of money for purely pleaaurable purposes. There is still an artificial surplus of cilia rency, and the war-gotten gains of the masses, to say nothing of the continuance of the extremely harmful unemployment dole, make it certain that this, old country of ours, in strong reaction from war-time hardships, will witness a holiday season of altogether exceptional character.
As in almost all other cases of national happenings, our own particular industry will feel the effect in considerable measure. Transport is the life of trade, and it is no less true that it is indispensable to pleasure taking and heliday making. The roads are already humming with the resurrected touring car—but few new models are to be seen as yet. Never was there such a coming and going amongst the removal contractors; goods and passengers alike are already beginning to be transported in largeaquantities to the scenes of holiday making and chanle.
Particularly will this year prove to he a record one for char-it-banes services, warning of which long ago reached the manufacturers because of the insistent clamour of proprietors for delivery dates which would enable them to tackle the expected traffic of Easter, of Whitsun, and of the remaining summer months. Many of these services will perforce have to operate in districts where the state of the roads will spell casualties every mile. Some local authorities—but they are few—have taken timely action and have started in to renew the sadly-neglected surfaces ; but the -majority are still only thinking about it. Tarspraying operations will never have been so badly needed, but I imagine that they will be of little service in the absence of preliminary extensive repairs.
With all this great traffic of the roads looming ahead, the thought is prompted that the Government would have been far snore wisely advised had they embarked on. an extensive national programme of road repair that would have found, or at least offered, work for tens of thousands of out-of-work and workshy men instead of subsidizing their chosen idleness. This will certainly be a bumper year for holiday traffic of all kinds, and there should be a lot of money in it for the owners. There will most certainly be a lot of spare part orders for the manufacturers!