THE FORTHCOMING ROYAL SHOW AT CARDIFF.
27th May 1919
Page 8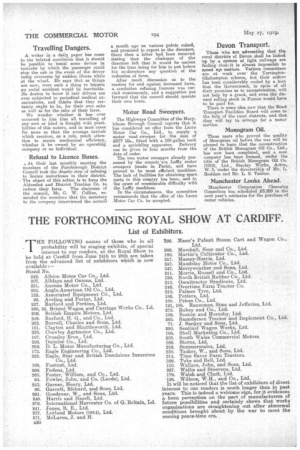 Page 8, 27th May 1919 —
THE FORTHCOMING ROYAL SHOW AT CARDIFF.
Close
List of Exhibitors.
THE FOLLOWING names of those who in all probability will be staging exhibits, of special interest to our readers, at the Royal Show to be held at Cardiff from June 24th to 28th are taken from the advanced list of exhibitors which is now available:
Stand No.
242. Albion Motor Car Co., Ltd. 207. Alldays and Onions, Ltd.
251. Ancona Motor Co. Ltd. 204. Anglo-American Oil Co., Ltd. 125. Associated Equipment CO., Ltd.
95. Aveling and Porter, Ltd.
227. Barford and Perkins, Ltd.
260, 35. Bristol Wagon and Carriage Works Co.. Ld. 209. British Empire Motors, Ltd. 249. Burford, H. G., and Co., Ltd. 262. Burrell, Charles and Sons, Ltd. 151. Clayton and Sauttleworth, Ltd.
228. Crawley Agrimotor Co., Ltd. 187. Crossley Bros,. Ltd. 236. Daimler Co. Ltd.
252. D. L. Motor Manufacturing Co., Ltd.
173. Eagle Engineering Co., Ltd.
328. Eagle, Star and British Dominions Insurance
Co., Ltd.
169. Fastnut, Ltd.
266. Fodens, Ltd. 263. Foster, William, and Co., Ltd. 94. Fowler, John, and Co. (Leeds), Ltd.
243. Garner, Henry, Ltd.
96. Garrett, Richard, and Sons, Ltd. 291. Goodyear, W., and Sons, Ltd.
240. Harris and Hasell, Ltd. 272. International Harvester Co. of G. Britain, Ld.
241. Jones, R. E., Ltd.
237. Leyland Motors (1914), Ltd. 271. McLaren, J. and H. B30 t26. Mann's Patent Steam Cart and Wagon Co.,
Ltd.
269. Marshall, Sons and Co., Ltd.
160. Martin's Cultivator Co., Ltd.
257. Massey-Harris, Ltd.
247. Maudslay Motor Co., Ltd.
347. Merryweather and Sons, Ltd. 211. Morris, Russell and Co., Ltd. 130. North British Rubber Co., Ltd.
213. Oninitractor Syndicate, Ltd.
246. Overtime Farm Tractor Co.
210. Palmer Tyre, Ltd.
186. Petters, Ltd.
121, 188. Ransomes, Sims and Jefferies, Ltd. 273. Robey and CO., Ltd.
189. Ruston and Hornsby, Ltd.
265. Saunderson Tractor and Implement Co., Ltd.
71. J. Sanjtey a,nd Sons, Ltd.
250. Sentinel Wagon Works, Ltd.
195. Shell Marketing Co., Ltd. 238. South Wales Commercial Motors.
166. Sterns, Ltd.
216. Sunimerscales, Ltd.
230. Tasker, W., and Sons, Ltd. 314. Time Saver Farm Tractors.
326. Tuke and Bell, Ltd.
110. Wallace, John, and Sons. Ltd.
267. Wallis and Steevens, Ltd.
179. Walsh and Clark, Ltd.
138. Willcox, W.11., and Co., Ltd.
It will be noticed that the list of exhibitors of direct interest to our readers is much longer than in past years. This is indeed a welcome sign, for it evidences a, keen perception on the part of manufacturers of future possibilities and certainly shows that works organizations are straightening out after abnormal
conditions brought about by the war to meet the
coming peace-time era..