USING BENZOLE IN THE FORD ENGINE.
27th May 1919
Page 19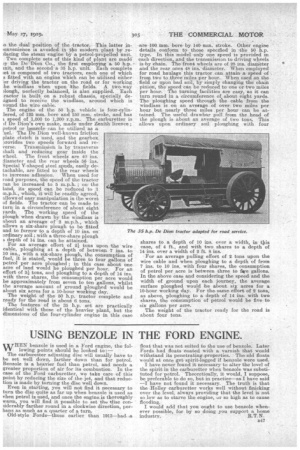 Page 19, 27th May 1919 —
USING BENZOLE IN THE FORD ENGINE.
Close
WREN benzole is used in a Ford engine, the following points should be looked to :— The carburetter adjusting disc will usually have to be set well down, farther down than for petrol. Benzole is a heavier fuel than petrol, and needs a greater proportion of air for its combustion. In the case of the Ford carburetter, we take care of this point by reducing the size of the jet, and that reduction is made by turning the disc well down.
Even in starting, you will not find it. necessary to turn the disc quite as far up when benzole is used as vhen petrol is used, and once the engine is thoroughly warm, you will find it possible to set the tlisc con• dderably farther round in a clockwise direction, perhaps as much as a quarter of a turn. Old-style Fords—those earlier than 1913—had. ,rt float that was not suited to the use of benzole, Later Fords had floats coated with a varnish that would withstand its penetrating properties. The old floats would at once get spirit-logged if benzole were used.
I have never found it necessary to alter the level of the spirit in the carburetter when benzole was substituted for petrol. Theoretically, it would, I suppose, be preferable to do so, but in practice—as I have said —I have not found it necessary. The truth is that the -Holley carburetter works well .without finicking over the level, always providing that the level is not so low as to starve the engine, or so high as to cause flooding.
I would aad that you ought to use benzole whenever possible, for by so doing you support a home
industry. • R.T.N.