Contributions from Drivers and Mechanics.
27th May 1909
Page 18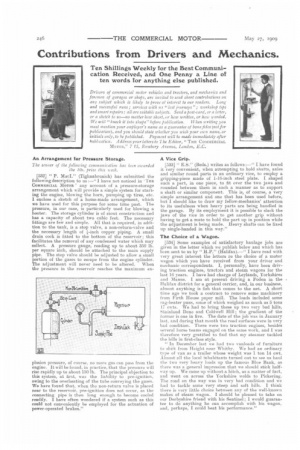 Page 18, 27th May 1909 —
Contributions from Drivers and Mechanics.
Close
Ten Shillings Weekly for the Best Communication Received, and One Penny a Line of ten words for anything else published.
An Arrangement for Pressure Storage.
The sower of the following communication has been awarded the Ws. prize this week.
[532] " P. Mad." (Tighnabruaich) has submitted the following description to us :—" II have not noticed in ' 'IHE COMMERCIAL Moron any account of a pressure-storage arrangement which will provide a simple system for starting the engine, blowing the horn, pumping up tires, etc. I enclose a sketch of a home-made arrangement, which we have used for this purpose for some time past. The pressure, in our case, is particularly used for blowing a hooter. The storage cylinder is of stout construction and has a capacity of about two cubic feet. The necessary fittings are few and simple. All that is required, in addition to the tank, is a stop valve, a non-return-valve and the necessary length of 1-inch copper piping. A small drain cock is fitted to the bottom of the reservoir ; this facilitates the removal of any condensed water which may collect. A pressure gauge, reading up to about 350 lb. per square inch, should be attached to the main supply pipe. The stop valve should be adjusted to allow a small portion of the gases to escape from the engine cylinder. The adjustment will never need to he altered. When the pressure in the reservoir reaches the maximum ex plosion pressure, of course, no more gas can pass from t ie engine. It will be found, in practice, that the pressure will rise rapidly up to about 150 IL The principal objection to this system, at first, was the liability to pre-ignition, owing to the overheating of the tube conveying the gases. We have found that, when the non-return valve is placed near to the reservoir, pre-ignition does not occur, as the connecting pipe is then long enough to become cooled readily. I have often wondered if a system such as this could not conveniently be employed for the actuation of power-operated brakes."
A Vice Grip.
ES." (Beds.) writes as follows;—' I have found it very convenient, when attempting to hold shafts, axles and similar round parts in an ordinary vice, to employ a gripping-piece made of 146-inch steel plate. I shaped such a part, in one piece, to fit over the two jaws and rounded between them in such a manner as to support a shaft or similar component. This is, of course, a very simple arrangement and one that has been used before, but I should like to draw my fellowemechanics' attention to its usefulness when heavy parts are being handled in the garage. By its employment it is possible to slack the jaws of the vice in order to get another grip without having to get a mate to hold the part up in position while the adjustment is being made. Heavy shafts can be fixed up single-handed in this way."
The Choice of a Wagon.
[534] Some examples of satisfactory haulage jobs are given in the letter which we publish below and which has been sent to us by " H.P." (Halifax).—" I have read with very great interest the letters re the choice of a motor wagon which you have received from your driver and mechanic correspondents. I, personally, have been driving traction engines, tractors and steam wagons for the last 16 years. 1 have had charge of Leylands, Yorkshires and Matins. I am at present driving a Peden in the Halifax district for a general carrier, and, in our business, almost anyiliing is fish that cornea to the net, A short time ago we took a contract to remove some machinery from Firth House paper mill. The loads included some rag-beater pans, some of which weighed as much as 5 tons 17 c.wts. We had to bring these up two very bad hills, Stainland Done and Coldwell Hill ; the gradient of the former is one in five. The date of the job was in January last, and during that month the road surfaces were in very bad condition. There were two traction engines, besides several horse teams engaged on the same work, and I was therefore very gratified to find that my steamer tackled the hills in first-class style.
" In December last we had two vanloads of furniture to shift from Height near Whitby. We had an ordinary type of van as a trailer whose weight was 1 ton 14 cwt. Almost all the local inhabitants turned out to see us haul the two very heavy loads up the famous Blue Bank, as there was a general impression that we should stick halfway up. We came op without a hitch, as a matter of fact, and went on across the Yorkshire wolds to Pickering. The road on the way was in very had condition and we had to tackle some very steep and soft hills. I think there is very little choice between any of the well-known makes of steam wagon. I should be pleased to take on our Derbyshire friend with his Sentinel; I would guarantee to do anything he can accomplish with his wagon, and, perhaps, I could beat his performance."