SPEED UP LICENSING PROCEDURE.
27th March 1936
Page 38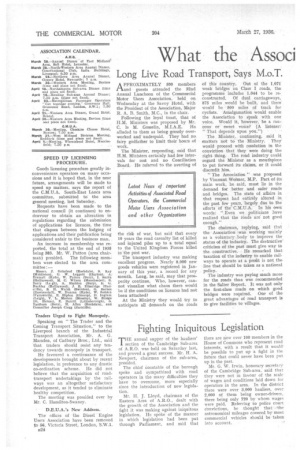 Page 38, 27th March 1936 —
SPEED UP LICENSING PROCEDURE.
Close
Goods licensing procedure greatly inconveniences operators on -many occasions and it is hoped that, in the near future, arrangements will be made to speed up matters, says the report of the C.M.U.A. South-East Lancs area committee, submitted to the area general meeting, last Saturday.
Requests have been made to the national council (it continues) to endeavour to obtain an alteration in regulations regarding the submission of applications for licences, the time that elapses between the lodging of applications and their publication being considered unfair to the business man.
An increase in membership was reported, the total at the end of 1935 being 383. Mr. W. Patton (area chairman) presided. The followieg members were elected to the area committee:— Messrs. J. Grindrod (Rochdale), B. Kay (Middleton). 0. W. Leggett (Clayton). .f. Drama]) (Hyde), R. Patton (Bury), I. Smith (Hollinwood), M. C. WI:son (Manchester), 8. Lorry (Le gh), A. Sheldon (Bury), E. U. Buckley (Hollinwood), J. Etlaeridge (Radcliffe). B. H. Walsh (Swinton), (I. Barnes (Rawtenstall), W. Duncan (Hyde), W. Seddon (Farnworth), E. Hipton (Olos-sop), IL Ingrain (Leigh), V. k Morton (Moasley), W. Bridge 1St. Helena), E. BurrIll (LitueboroveN, SEastham (Bum, H. Allen (Rochdale), and Councillor Joseph Clegg Wade:111e).
Traders Urged to Fight Monopoly.
Speaking on "The Trader and the Coming Transport Situation," to the Liverpool branch of the Industrial Transport Association, Mr. A. G. Marsden, of Cadbury Bros., Ltd., said that traders should resist any tendency towards monopoly in transport.
He favoured a continuance of the developments brought about by recent legislation, in preference to any drastic co-ordination scheme. He did not believe that the acquisition of roadtransport undertakings by the railways was an altogether satisfactory development, as it tended to eliminate healthy competition.
The meeting was presided over by Mr. C. Hamilton-Swanzy.
• D.E.TJ.A.'s New Address.
The offices of the Diesel Engine Users Association have been removed to 56, Victoria Street, London, S.W.1.
B24
Tags
People
:
W. Duncan
,
I. Barnes
,
A. G. Marsden
,
J. Grindrod
,
W. Patton
,
B. Kay
,
W. Leggett
,
I. Smith
,
Joseph Clegg Wade
,
W. Seddon
,
J. Etlaeridge
,
B. H. Walsh
,
C. Hamilton-Swanzy