Good-bye to the Gun Horse.
27th March 1913
Page 7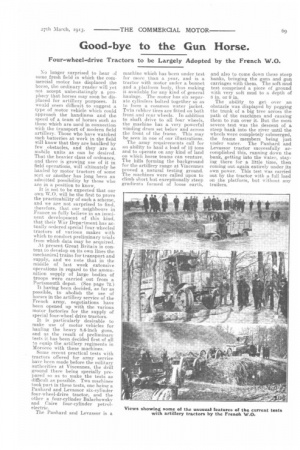 Page 7, 27th March 1913 —
Good-bye to the Gun Horse.
Close
Four-wheel-drive Tractors to be Largely Adopted by the French W.O.
No longer surprised to hear of some fresh field in which the commercial motor has displaced the horse, the ordinary reader will yet not accept unhesitatingly a prophecy that horses may soon be displaced for artillery purposes. It would seem difficult to suggest a type of motor vehicle which could approach the handiness and the speed of a team of horses such as those which are used in connection with the transport of modern field artillery. Those who have watched such batteries at work in the field will know that they are baulked by few obstacles, and they are as mobile units as can be desired. That the heavier class of ordnance, and there is growing use of it in field operations, will ultimately be hauled by motor tractors of some sort or another has long been an admitted possibility by those who are in a position to know.
It is not to be expected. that our own W.O. will be the first to prove the practicability of such a scheme, and we are not surprised to find, therefore, that, our neighbours in France so fully believe in an imminent development of this kind, that their War Department has actually ordered special four-wheeled tractors of various makes with which to conduct preliminary trials from which data may he acquired.
At present Great Britain is content to develop on its own lines the mechanical trains for transport and supply, and we note that in the middle of last week extensive operations in regard to the ammunition supply of large bodies of troops were carried out from a Portsmouth depot. (See page 72.) It having been decided, as far as possible, to abolish the use of horses in the artillery service of the French army, negotiations have been opened up with the various motor factories for the supply of special four-wheel drive tractors.
It is particularly desirable to make use of motor vehicles for hauling the heavy 8,6-inch guns, and as the result of preliminary tests it has been decided first of all to equip the artillery regiments in Morocco with these machines.
Seine recent practical tests with tractors offered for army service have been made before the military authorities at Vincennes, the drill ground there being specially prepared so as to make the tests as difficult, as possible. Two machines took part. in these tests, one being a Panho rd and Levassor six-cylinder four-wheel-drive tractor, and the other a four-cylinder Balachowskv and Caire four-cylinder petrolelectric.
The Panhard and Levassor is a machine which has been under test for more than a year, and is a tractor with motor under a bonnet and a platform body, thus making it available for any kind of general haulage. The motor has six separate cylinders bolted together so as to form a common water jacket. Twin rubber tires are fitted on both front and rear wheels. In addition to shaft drive, to all four wheels, the machine haTs a very powerful winding drum set below and across the front of the frame. This may be seen in one of our illnstrations.
The army requirements call for an ability to haul a load of 12 tons and to operate on any kind of land on which horse teams can venture. The hills forming the background for the artillery range at Vincennes proved a natural testing ground. The machines were called upon to climb short but exceptionally steep gradients formed of loose earth, and also to come down these steep banks, bringing the guns and gun carriages with them. The soft mud test comprised a piece of ground with very soft mud to a depth of 8 in. or 9 in.
The ability to get over an obstacle was displayed by pegging the trunk of a big tree across the path of the machines and causing them to run over it. But the most severe test was the descent of a steep bank into the river until the wheels were completely submerged, the frame members being just under water. The Panhard and Levassor tractor successfully accomplished this, running down the bank, getting into the water, staying there for a little time, then coming out again entirely under its own power. This test was carried out by the tractor with a full load on the platform, but without any trailers.