The Industry Down Under.
27th March 1913
Page 6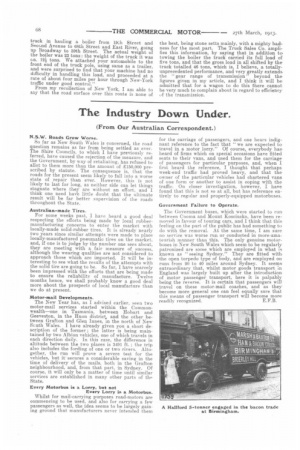 Page 6, 27th March 1913 —
The Industry Down Under.
Close
(From Our Australian Correspondent.)
N.S.W. Roads Grow Worse.
So far as New South Wales is concerned, the road question remains as far from being settled as ever. The Shire Councils, to which I have previously referred, have caused the rejection of the measure, and the Government, by way of retaliating, has refused to
allot to them more than the amount of £150,000 pre scribed by statute. The consequence is, that the roads for the present seem likely to fall into a worse state of repair than ever. However, this i not likely to last for long, as neither side can let things stagnate where they are without an effort, and I think one need hav'e little doubt that the ultimate result will be far better supervision of the roads throughout the State.
Australian-made Tires.
For some weeks past, I have heard a good deal respecting the efforts being made by local rubbermanufacturing concerns to enter the market with locally-made solid-rubber tires. It is already nearly two years since similar attempts were made to place locally-manufactured pneumatic tires on the market, and, if one is to judge by the number one sees about, they are meeting with a fair measure of success, although the wearing qualities are not considered to approach those which are imported. It will be interesting to see what the results of the attempts with the solid tire are going to be. So far, I have scarcely been impressed with the efforts that are being made to ensure the reliability of manufacture. Twelve months hence, we shall probably know a good deal more about the prospects of local manufacture than we do at present.
Motor-mail Developments.
The New Year has, as I advised earlier, seen two motor-mail services started within the Commonwealth—one in Tasmania, between Hobart and Geeveston, in the Huon district. and the other between Grafton and Glen Innes, in the north of New Scuth Wales. I have already given you a short description of the former ; the latter is being maintained by two Albion vehicles, one of which travels in each direction daily. In this case, the difference in altitude between the two places is 3491 ft. ; the trip also includes the fording of one or two rivers. Altogether, the run will prove a severe test for the vehicles, but it secures a considerable saving in the time of delivery of the mails, both in the Grafton neighbourhood, and, from that part. in Sydney. Of course, it will only be a matter of time until similar services are established in many other parts of the State.
Every Motorbus is a Lorry, but not Every Lorry is a Motorbus.
Whilst for mail-carrying purposes road-motors are commencing to be used, and also for carrying a few passengers as well, the idea seems to be largely gaining ground that manufacturers never intended them for the carriage of passengers, and one hears indignant reference to the fact that "we are expected to travel in a motor lorry." Of course, everybody has heard of firms which on special occasions have fitted seats to their vans, and used them for the carriage of passengers for particular purposes, and, when I first heard the reference, I thought that perhaps week-end traffic had proved heavy, and that the owner of the particular vehicles had chartered vans. of one form or another to assist in coping with the traffic. On closer investigation, however, I have found that this is not so at all, but has reference entirely to regular and properly-equipped motorbuses.
Government Failure to Operate.
The Government buses, which were started to run between Cooma and Mount Kosciusko, have been removed in favour of touring cars, and I think that thin feeling on the part of the public has had something to do with the removal. At the same time, I am sure no service was worse run or conducted in more-amateurish manner than this. The only genuine motorbuses in New South Wales which seem to be regularly patronized are some which are employed in what is known as "seeing Sydney." They are fitted with the open torpedo type of body, and are employed on runs from 20 to 40 miles around Sydney. It seems extraordinary that, whilst motor goods transport in England was largely built up after the introduction of motor passenger transport, here it is palpably being the reverse. It is certain that passengers will travel on these motor-mail coaches, and as theybecome more general one can feel equally sure that this means of passenger transport will become more
readily recognized. E.F.B.