The Seventh C.M.U.A. Parade.
27th March 1913
Page 4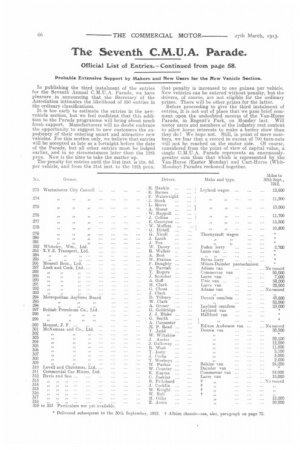 Page 4, 27th March 1913 —
The Seventh C.M.U.A. Parade.
Close
Official List of Entries.—Continued from page 58.
Probable Extensive Support by Makers and New Users for the New Vehicle Section.
In publishing the third instalment of the entries for the Seventh Annual C.M.U.A. Parade, we have pleasure in announcing that the Secretary of the Association intimates the likelihood of 350 entries in the ordinary classifications.
It is too early to estimate the entries in the newvehicle section, but we feel confident that this addition to the Parade programme will bring about much fresh support. Manufacturers will no doubt embrace the opportunity to suggest to new customers the expediency of their entering smart and attractive new vehicles. For this section only, we believe that entries will be accepted as late as a fortnight before the date of the Parade, but all other entries must be lodged earlier, and in no circumstances later than the 12th prox. Now is the time to take the matter up. The penalty for entries until the 31st inst. is 10s. 6d. per vehicle, and from the 31st inst. to the 12th prox.
that penalty is increased to one guinea per vehicle. New vehicles can be entered without penalty, but the drivers, of course, are not eligible for the ordinary prizes. There will be other prizes for the latter. Before proceeding to give the third instalment of entries, it is not out of place that we pass brief comment upon the undoubted success of the Vaal-Horse Parade, in Regent's Park, on Monday last. Will motor users and members of the industry rest content to allow horse interests to make a better show than they do ? We hope not. Still, in point of mere numbers, we fear that a record in excess of 700 turn-outs will not be reached on the motor side. Of course, considered from the point of view of capital value, a single C.M.U.A. Parade represents an enormouslygreater sum than that which is represented by the Van-Horse (Easter Monday) and Cart-Horse (WhitMonday) Parades reckoned together.