-; 11-1E TRACTOR IN INDUSTRY.
27th July 1920
Page 18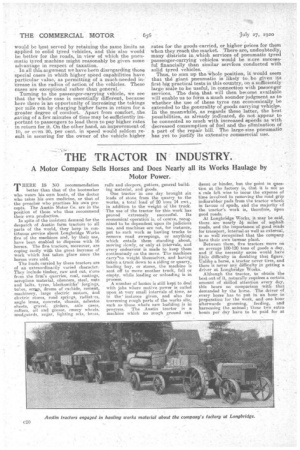 Page 19
Page 18, 27th July 1920 —
-; 11-1E TRACTOR IN INDUSTRY.
Close
A Motor Company Sells Horses and Does Nearly all its Works Haulage by Motor Power.
THERE IS NO recommendation better than that of the bootmaker who wears his own boots, of the doctor who takes his own medicine, or that of
the preacher who practises his own precepts. The Austin Motor Co. are in the position of those who thus recommend their own production. In spite of the insistent demand for the despatch of Austin farm tractors to all 'parts of the world, they keep in contittuous service about Longbridge Works five of the machines and, by their use, have been enabled to dispense with 16 horses. The five tractors, moreover, are coping easily with the great increase of Work which has taken place since the horses were sold.
The loads carried by these tractors are of an extraordinarily varied character. They include timber, raw and cut, stone from the firrti's quarries, coal, castings, aeroplane material, silencers, steel, nuts and bolts, tyres, blacksmiths' forgings, tubes, scrap, drums of caibide, cement, machinery, large electric motors, and electric stores, road springs, radiat,rs, angle irons, concrete, chassis, asbestos sheets, gravel; girders, axle cases, rafters, oil and grease, emery wheels, mudguards, sugar, lighting sets, brass,
rails and sleepers, gutters, general building material, and goods,
One tractor in one day brought six loads of stone_ from the quarry to .the works, a total load of 20 tons 14 cwt., in addition to the Weight of the truck. The use of the tractor for this work has proved extremely successful. Its economical operation is, of course, recognized to be dependent upon its judicious use, and machines are not, for instance, put to such work as hauling trucks to remove road sweepings, or anything which entails them standing about, moving slowly, or only at intervals, and every endeavour is made to keep them continuously on the move. The machines earry`no weight thernSelves, and having taken a truck down to a siding or quarry, loading bay, or stores, the machine is sent off to move another truck, full or empty, while loading or unloading is in. process.
A number of holies is still kept to deal with jobs where motive power is called upon at very small intervals of time, as in the' instance given, and also for traversing rough parts of the works site, such as those. wheF.e new building is in progress.. The Austin tractor is a Machine which no rauzh _ground can
daunt or hinder, but the point in suestMn at the factory is, that it is not as a rule felt wise to incur the expense of time involved in removing the road grip indiarubber pads from the tractor wheels in favour of spuds, aiad the majority of the tractor's work is, therefore, upon good roads.
At Longbridge Works, it may be said, there are nearly 3i miles of asphalt roads, and the importance of good roads for transport, internal-as well as external, is so well recognized that the company have their own tarmac plant.
Between them, five tractors move on an average 100-120 tons of goods a day, and if the necessity arose, would have little difficulty in doubling that figure.' Unlike a horse, a tractor never tires, and there is never anydifficulty in getting a driver at Longbridge Works.
Although the tractor, to Obtain 'the best out of it, naturally requires a certain. amount of skilled attention every day, this bears no comparison with' that demanded by the horse. The driver of .every horse has to put in an hour in preparation for the work, and one hour afterwards grooming, feeding, and harnessing the animal; these tWO extra hours per day have to be paid for at
overtime rates--a very serious consideration. While the speed of the wagon .horses is less than three miles an hour,
and its load comParatively small, the tractor can maintain a speed of 6-7 miles per hour Ohthe level and pull 8 tons, and can haul a net load, of 6 tons up a moderate gradient. —
One -tractor is equal to four of the very best animals, costing nowadays £100 each, and 4s. 6d. a day for food. -Indeed, it is doubtful whether they really could cope With the work with a safe re2erve of p:twer.
Appended is a table of a day's work by five tractors. The figures are those of the day preceding the inquiries on which this article is heed; they are in no sense selected, and constitute a typical example of a day's work, for one day very much resembles another in regard to average figures.
One Day's Work of Five Tractors. Journeys. Tons Cwt. Miles.
(a) 03) 11 19 0 i 14 36 0 10/ (c) 6 20 14 : 17
(4) 9 17 10 12 (e)9 17 0 101 Total q-uantity moved equalled 110 tons. Total distance covered 591 miles. Tun mileage 1,299 in one day.
These are instructive -figures, and prove the general utility of the tractor . for other than farm work.