WHERE AMERICAN DESI IS WORTH WATCHING
27th January 1940
Page 26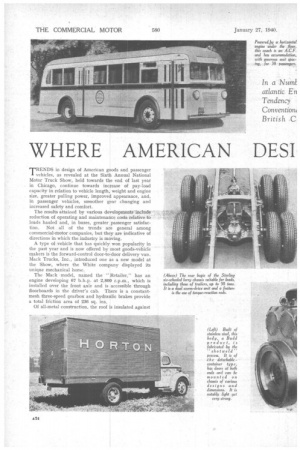 Page 27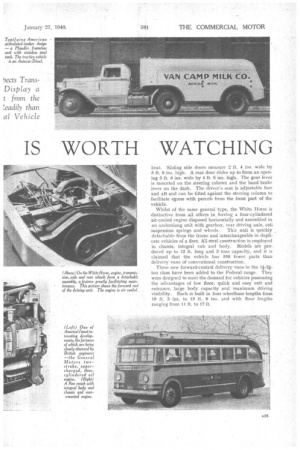 Page 28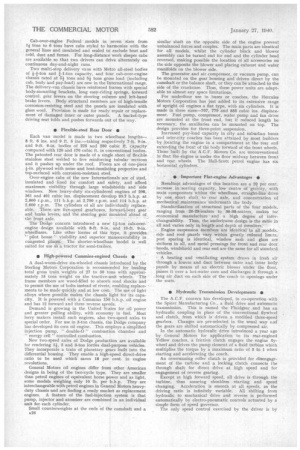 Page 29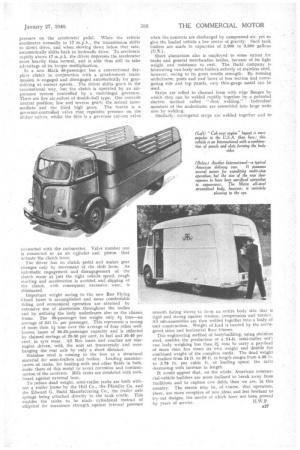 Page 26, 27th January 1940 —
WHERE AMERICAN DESI IS WORTH WATCHING
Close
TRENDS in design of American goods and passenger vehicles, as revealed at the Sixth Annual National Motor Truck Show, held towards the end of last year in Chicago, continue towards increase of pay-load capacity in relation to vehicle length, weight and engine size, greater pulling power, improved appearance, and, in passenger vehicles, smoother gear changing and increased safety and comfort.
The results attained by various developments include reduction of operating and maintenance costs relative to loads hauled and, in buses, greater passenger satisfaction. Not all of the trends are general among commercial-motor companies, but they are indicative of directions in which the industry is moving.
A type of vehicle that has quickly won popularity in the past year and is now offered by most goods-vehicle makers is the forward-control door-to-door delivery van. Mack Trucks, Inc., introduced one as a new model at the Show, where the White company displayed its unique mechanical horse.
The Mack model, named the "Retailer," has an engine developing 67 b.h.p. at 2,800 r.p.m., which is installed over the front axle and is accessible through floorboards in the driver's cab. There is a constantmesh three-speed gearbox and hydraulic brakes provide a total friction area of 236 sq. ins.
Of all-metal construction, the roof is insulated against heat. Sliding side doors measure 2 It. 4 ins, wide by 5 ft. 8 ins, high. A rear door slides up to form. an opening 3 ft. 6 ins, wide by 4 ft. 6 ins. high. The gear lever is mounted on the steering column and the hand-brake lever on the dash. The driver's seat is adjustable fore and aft and can be tilted against the steering column to facilitate egress with parcels from the front part of the vehicle.
Whilst of the same general type, the White Horse is distinctive from all others in having a four-cylindered air-cooled engine disposed horizontally and assembled in an underslung unit with gearbox, rear driving axle, coil
suspension springs and wheels. This unit is quickly detachable from the frame and interchangeable in duplicate vehicles of a fleet. All-steel construction is employed in chassis, integral cab and body. Models are produced up to 12 ft. long and 3 tons capacity, and it is claimed that the vehicle has 550 fewer parts than delivery vans of conventional construction.
Three new forward-control delivery vans in the 1i-2ton class have been added to the Federal range. They were designed to meet the demand for vehicles possessing the advantages of low floor, quick and easy exit and entrance, large body capacity and maximum driving visibility. Each is built in four wheelbase lengths from 10 ft. 3 ins. to 13 ft. 8 ins, and with floor lengths ranging from 11 ft. to 17 ft.
Cab-over-engine Federal models in seven sizes from 1i tons to 6 tons have cabs styled to harmonize with the general lines and insulated and sealed to exclude heat and cold, dust and fumes. For long-distance work sleeper cabs are available so that two drivers can drive alternately on continuous day-and-night runs.
Two multi-stop delivery vans with Metro all-steel bodies of -l-ton and 1-1-ton capacity, and four cab-over-engine chassis rated at 5i tons and 81 tons gross load (including cab, body and pay-load) are new in the International range. The delivery-van chassis have reinforced frames with special body-mounting brackets, long easy-riding springs, forward control, gear levers on the steering column and left-hand brake levers. Body structural members are of high-tensile corrosion-resisting steel and the panels are insulated with glass wool. Provision is made for ready repair or replacement of damaged inner or outer panels. A bucket-type driving seat folds and pushes forwards out of the way.
• Flexible-steel Rear Door • Each van model is made in two wheelbase lengths—. 8 ft. 6 ins. and 9 ft. 5 ins.—taking respectively 7-ft. 9-in. and 9-ft. 6-in, bodies of 225 and 280 cubic ft. capacity compared with 120 and 170 cubic ft. in conventional bodies. The patented rear door is made of a single sheet of flexible stainless steel welded to five reinforcing tubular sections and it pushes up under the roof. Floors are of one-piece Fin. plywood with noise and heat-insulating properties and• top-surfaced with corrosion-resistant steel.
Over-engine cabs of the new Internationals are of steel, insulated and lined for comfort and safety, and afford maximum visibility through large windshields and side windows. New heavy-duty six-cylindered engines of 298, 361 and 401 cubic ins. displacement develop 93.7 b.h.p. at 2,800 r.p.m., 111 b.h.p. at 2,700 r.p.m. and 114 b.h.p. at 2,600 r.p.m. The cylinders of all are individually replaceable, There • are five-speed gearboxes, forward-bent gear and brake levers, and the steering gear mounted ahead of the front axle.
The Dodge concern introduced a new 14-ton cab-overengine design available with 8-ft. 9-in. and 10-ft. 9-in. wheelbases. Like other lorries of this type, it provides " pilot house '• visibility and superior manceuvrability in congested places. The shorter-wheelbase model is well suited for use a's a tractor for semi-trailers.
• High-powered Curnmins-engined Chassis • A dual-worm-drive six-wheeled chassis introduced by the Sterling Motors Corporation is recommended for hauling total gross train weights of 27 to 30 tons with approximately 15 tons weight on the tractive-unit wheels. The frame members are wood-filled to absorb road shocks and to permit the use of bolts instead of rivets, enabling replacements to be made quickly and at low cost. The use of light alloys where possible makes the chassis light for its capacity. It is powered with a Cummins 150 b.h.p. oil engine and has 12 forward and three reverse speeds.
Demand is growing in the United Slates for oil power and greater pulling ability, with economy in fuel. Most lorry makers install such engines, also two-speed axles to special order. For use in 3-ton chassis, the Dodge company has developed its own oil engine. This employs a simplified injection pump, " double-0 " combustion chamber and " energy cell" controlled combustion.
New two-speed axles of Dodge production are available for rendering 11, 2 and 3-ton lorries dual-purpose vehicles. They incorporate a train of planetary gears built into the differential housing. They enable a high-speed direct-drive ratio to he used which saves 18 per cent. in engine revolutions.
General Motors oil engines differ from other American designs in being of the two:cycle type. They are smaller than petrol engines of equivalent horse power and as light, some models weighing only 10 lb. per b.h.p. They are interchangeable with petrol engines in General Motors heavyduty chassis and are finding a ready market as replacement engines. A feature of the fuel-injection system is that pump, injector and atomizer are combined in an individual unit for each cylinder.
Small counterweights at the ends of the camshaft and a A26 similar shaft on the opposite side of the engine prevent unbalanced forces and couples. The main parts are identical for all models, whilst the cylinder block and blower assembly can be turned end for end and the cylinder head reversed, making possible the location of all accessories on the side opposite the blower and placing exhaust and water manifolds on the blower side.
The generator and air compressor, or vacuum pump, can be mounted on the gear housing and driven direct by the camshaft or the balance shaft, or they can be attached to the side of the crankcase. Thus, these power units are adaptable to almost any space limitations, For underfloor use in buses or coaches, the Hercules Motors Corporation has just added to its extensive range of upright oil engines a fiat type, with six cylinders. It is made in three sizes-707, 779 and 855 cubic ins. displacement. Fuel pump, compressor, water pump and fan drive are mounted at the front end, but if reduced length be necessary, the auxiliaries can be mounted on top. The design provides for three-point suspension.
Increased pay-load capacity in city and suburban buses and inter-city coaches has been attained by most builders by locating the engine in a compartment at the rear and extending the front of the body forward of the front wheels. Those built by the A.C.F. Motors Co. are unconventional in that the engine is under the floor midway between front and rear wheels. The Hall-Scott petrol engine has six horizontal cylinders.
• Important Flat-engine Advantages • Resultant advantages of this location are a 20 per cent. increase in seating capacity, low centre of gravity, with main components within the wheelbase, straight-line drive by one short shaft to rear axle, and concentration of mechanical maintenance underneath the body.
Standardization of structural parts of the four models, ranging from 26-28-sea.ters to 36-38-seaters, makes for economical manufacture and a high degree of interchangeability. Thus, the underframe design is the same in all and varies only in length and depth of members.
Engine suspension members are identical in all models, side and roof panels vary Within greatly reduced limits, post spacing is identical, window sash and glass are uniform in all, and metal pressings for front and rear door hoods, windshield and rear end are the same for all standard vehicles.
A heating and ventilating system draws in fresh air through a louvre and duct between outer and inner body panels by means of an electric blower under the floor, passes it over a hot-water core and discharges it through a . long air duct on each side of the coach to openings under the seats.
• Hydraulic Transmission Developments • The A.C.F. concern has developed, in co-operation with the Spicer Manufacturing Co., a fluid drive and automatic transmission. This is named the Fluidgear and has an hydraulic coupling in place of the conventional flywheel and clutch, from which is driven a modified three-speed gearbox. Changes are pre-selected in the usual way and the gears are shifted automatically by compressed air.
In the automatic hydraulic drive introduced a year ago by General Motors for application to its rear-engined Yellow coaches, a friction clutch engages the engine flywheel and drives the pump element of a fluid turbine which multiplies the torque by a maximum ratio of 5 to 1 when starting and accelerating the coach.
An overrunning roller clutch is provided for disengagement of the turbine and a locking clutch connects the through shaft for direct drive at high speed and for engagement of reverse gearing.
Except at high forward speed, all drive is through the turbine, thus assuring shockless starting and speed changing. Acceleration is smooth at all speeds, as the driving ratio is infinitely variable, All shifting from hydraulic to mechanical drive and reverse is performed automatically by electro-pneumatic controls actuated by a simple form of speed governor.
The only speed control exercised by the driver is by pressure on the accelerator pedal. When the vehicle accelerates normally to 17 m.p.h., the transmission shifts to direct drive, and when slowing down below that rate, automatically shifts back to hydraulic drive. To accelerate rapidly above 17 m.p.h. the driver depresses the accelerator more heavily than normal, and is able thus still to take advantage of its torque multiplication.
In a new Mack 40-passenger bus a conventional dryplate clutch in conjunction with a synchromesh transmission is engaged and disengaged automatically for gearshifting at correct speeds. The driver shifts gears in the conventional way, but the clutch is operated by an airpressure system controlled by a centrifugal governor. There are five air.valves of double-ball type. One controls neutral position, low and reverse gears; the second intermediate and the third high gears. The fourth is a governor-controlled valve that regulates pressure on the shifter valves, whilst the fifth is a governor cut-out valve connected with the carburetter. Valve number one is connected to an air cyjinder and piston that actuate the clutch lever.
The driver has no clutch pedal and makes gear changes only by movement of the shift lever. As automatic engagement and disengagement of the clutch occur at just the right vehicle speed, rough starting and acceleration is avoided and slipping of the clutch, with consequent excessive wear, is
eliminated. • Important weight saving in the new Reo Flying Cloud buses is accomplished and more comfortable riding and economical operation are attained by extensive use of aluminium throughout the bodies and by utilizing the body underfra,me also as the chassis frame. The 30-passenger bus weighs only 4i tons—an average of 341 lb. per passenger. This represents a saving of more than l tons over the average of four other wellknown buses of 30-32-passenger capacity and is reflected by claimed savings of 20-30 per cent, in fuel and 30-40 per cent. in tyre wear. All Reo buses and coaches are rearengine driven, with the unit set transversely and overhanging the rear axle by only a short distance.
Stainless steel is coming to the fore as a structural material for semi-trailers and bodies. Leading manufacturers of tanks, for hauling milk and other fluids in bulk, make them of this metal to avoid corrosion and contamination of the contents. Milk tanks are insulated with corkboard against external heat. To reduce dead weight, semi-trailer tanks are built without a trailer frame by the Heil Co., the Pfaudler Co. and the Edward G. Budd Manufacturing Co., the trailer axle springs being attached directly to the tank cradle. This enables the tanks to be made cylindrical instead of elliptical for maximum strength against internal pressure when the contents are discharged by compressed air, yet to give the loaded vehicle a low centre of gravity. Such tank trailers are made in capacities of 2,000 to 3,000 gallons (U.t.).
Sheet aluminium also is employed to some extent for tanks and general merchandise bodies, because of its light weight and resistance to rust. The Budd company is fabricating van-body semi-trailers entirely of stainless steel, however, awing to its great tensile strength. By forming underfrarne, posts and roof bows of box section and corrugating side and top panels, very thin-gauge metal can be used.
Strips are rolled to channel form with edge flanges by which they can be welded rapidly together by a patented electric method called "shot welding." Individual members of the underframe are assembled into large units also by welding.
Similarly, corrugated strips are welded together and to smooth facing sheets to form an entire body side that is rigid and strong against tension, compression and torsion. All sdb-assemblies are then welded together into a body of unit construction. Weight of load is carried by the corrugated sides and horizontal floor trusses,
This engineering method of bodybuilding, using stainless steel, enables the production of a 24-ft. semi-trailer wit'i van body weighing less than 21 tons to carry a pay-load of more than five times its own weight and double the combined weight of the complete outfit. The dead weight of trailers from 24 ft. to 30 ft. in length ranges from 4.36 lb. to 3.78 lb. per cubic ft. of loading space, the ratio decreasing with increase in length.
It would appear that, on the whole, American commercial-vehicle builders are more inclined to break away from traditions and to explore Lew fields than we are, in this ,country. The reason may be, of course, that operators, there, are more receptive of new ideas and less hesitant to try-out designs, the merits of which have not been proved
by years of service. 1-1.W.P.