One Hears—
27th January 1940
Page 15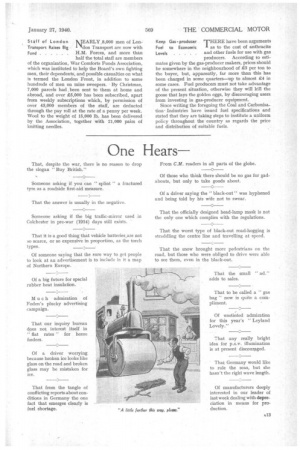 Page 15, 27th January 1940 —
One Hears—
Close
That, despite the war, there is no reason to drop the slogan "Buy British."
Someone asking if you can " splint " a fractured tyre as a roadside first aid measure.
That the answer is usually in the negative.
Someone asking if the big traffic-mirror used in Colchester in pre-war (1914) days still exists.
That it is a good thing that vehicle batteries,are not so scarce, or so expensive in proportion, as the torch types.
Of someone saying that the sure way to get people to look at an advertisement is to include in it a map of Northern Europe.
Of a big future for special rubber heat insulation.
Much admiration of Foden's plucky advertising campaign.
That our inquiry bureau does not interest itself in " flat rates" for home finders.
Of a driver worrying because broken ice looks like glass on the road and broken glass may be mistaken for ice.
That from the tangle of conflicting reports about conditions in Germany the one fact that emerges clearly is fuel shortage.
From C.M. readers in all parts of the globe.
Of those who think there should be no gas for gadabouts, but only to take goods about.
Of a driver saying the " black-out " was hyphened and being told by his wife not to swear.
That the officially designed head-lamp mask is not the only one which complies with the regulations.
That the worst type of black-out road-hogging is straddling the centre line and travelling at speed.
That the snow brought more pedestrians on the road, but those who were obliged to drive were able to see them, even in the black-out.
That the small "ad." adds to sales.
That to be called a "gas bag " now is quite a compliment.
Of unstinted admiration for this year's " Leyland Lovely."
That any really bright idea for p.s.v. illumination is at present discouraged.
That Germany would like to rule the seas, but she hasn't the right wave length.
Of manufacturers deeply interested in our leader of last week dealing with depreciation in means for production.