Passing Comments
27th January 1940
Page 14
Page 15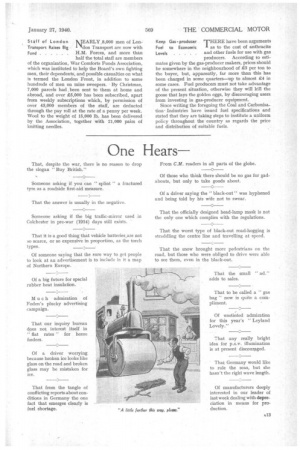 Page 14, 27th January 1940 —
Passing Comments
Close
Protection for Beet WHAT a fortunate thing it is
Now Demonstrates vi` for us that the beet sugar
its Value subsidy, which has been
attacked year after year, was _ retained so that our home supply of beet sugar could still be produced. If it were not for this, our sugar ration might be much smaller and, in any case, the import of the supplies necessary would have evolved much more shipping, which can be profitably employed for other purposes. In addition to this, it has brought an immense amount of work both to the railways and to road transport. If general agricultural protection had been a more permanent feature of our national policy, we would have been in a still happier position.
Should Any Vehicles IN drawing attention to road Park in the Road 'dangers during the black-out, Centre we cannot avoid referring to taxicab ranks situated in the centre of the road. If it could be arranged that the last cab had a .rear light at each aside the danger would be lessened, but in the dark, and particularly if fog be present, centrally parked vehicles are undoubtedly a grave risk to other traffic, as the tendency is to keep to the right of any vehicle that is stationary, which may well result in head-on collisions or trapping unwary pedestrians. A number of drivers has spoken to us regarding this matter and the danger of having such a large width of vehicle unindicated and projecting into the traffic line.
Stiff of London TVEARLY .8,000 men of LonTransport Raises Big "don Transport are now with Fund H.M. Forces, and more than half the total staff are members of the organization, War Comforts Funds Association, which was instituted to help the Board's own fighting men, their dependents, and possible casualties on what is termed the London Front, in addition to some hundreds of men on mine sweepers. By Christmas, 7,000 parcels had , been sent to them at home and abroad, and over £5,000 has been subscribed, apart from weekly subscriptions which, by permission of over 43,000 members of the staff, are deducted through the pay roll at the rate of a penny per week. Wool to the weight of 15,000 lb. has been delivered by the Association, together with 21,000 pairs of knitting needles. Keep Gas producerTHERE have-been arguments Fuel to Economic as to the cost of anthracite and other fuels for use with gas producers. According to estimates given by the gas-producer makers, prices should be somewhere in the neighbourhood of £3 per ton to the buyer, but, apparently, far more than this has been charged in some quarters—up to almost £4 in some cases. Fuel producers must not take advantage of the present situation, otherwise they will kill the goose that lays the golden eggs, by discouraging users from investing in gas-producer equipment.
Since writing the foregoing the Coal and CarbonisationIndustries have issued fuel specifications and stated that they are taking steps to institute a uniform policy throughout the country as regards the price and distribution of suitable fuels.
Levels