Keep TRUCKING with this winch
27th August 1976
Page 45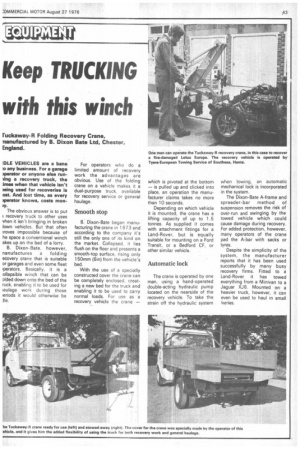 Page 45, 27th August 1976 —
Keep TRUCKING with this winch
Close
ruckaway-R Folding Recovery Crane, nanufactured by B. Dixon Bate Ltd, Chester, England.
IDLE VEHICLES are a bane to any business. For a garage merator or anyone else runling a recovery truck, the :imes when that vehicle isn't ming used for recoveries is ost. And lost time, as every operator knows, costs monoy.
The obvious answer is to put recovery truck to other uses vhen it isn't bringing in broken lown vehicles. But that often roves impossible because of he space a conventional winch akes up on the bed of a lorry. B. Dixon-Bate, however,
nanufactures a folding ecovery crane that is suitable or garages and even some fleet iperators. Basically, it is a ollapsible winch that can be olded down onto the bed of the ruck, enabling it to be used for iaulage work during .those ieriods it would otherwise be ile.
For operators who do a limited amount of recovery work the advantages are obvious. Use of the folding crane on a vehicle makes it a dual-purpose truck, available for recovery service or general haulage.
Smooth stop
B. Dixon-Bate began manufacturing the crane in 1 973 and according to the company it's still the only one of its kind on the market. Collapsed it lies flush on the floor and presents a smooth-top surface, rising only 150mm (6in) from the vehicle's bed.
With the use of a specially constructed cover the crane can be completely enclosed, creating a new bed for the truck and enabling it to be used to carry normal loads. For use as a recovery vehicle the crane — which is pivoted at the bottom — is pulled up and clicked into place, an operation the manufacturer claims takes no more than 10 seconds.
Depending on which vehicle it is mounted, the crane has a lifting capacity of up to 1.5 tonnes. As supplied it comes with attachment fittings for a Land-Rover, but is equally suitable for mounting on a Ford Transit, or a Bedford CF, or other similar vehicle.
Automatic lock
The crane is operated by one man, using a hand-operated double-acting hydraulic pump located on the nearside of the recovery vehicle. To take the strain off the hydraulic system when towing, an automatic mechanical lock is incorporated in the system.
The Dixon-Bate A-frame and spreader-bar method of suspension removes the risk of over-run and swinging by the towed vehicle which could cause damage during recovery. For added protection, however, many operators of the crane pad the A-bar with sacks or tyres.
Despite the simplicity of the system, the manufacturer reports that it has been used successfully by many busy recovery firms. Fitted to a Land-Rover it has towed everything from a Minivan to a Jaguar XJ6. Mounted on a heavier truck, however, it can even be used to haul in small lorries.