Brighton doubles up
26th November 1987
Page 24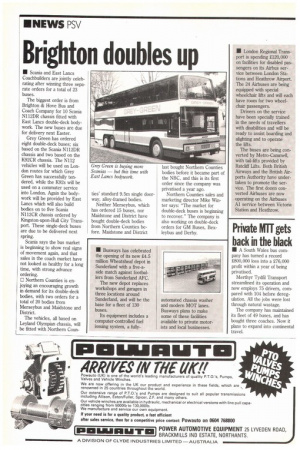 Page 24, 26th November 1987 —
Brighton doubles up
Close
Keywords :
Buses
,
Road Transport
,
Double-decker Buses
,
Scania N112
,
Leyland Olympian
,
East Lancashire Coachbuilders
,
Scania
,
Maidstone & District Motor Services
,
Scania Omnidekka
,
Scania Omnitown
,
Hospitality / Recreation
• Scania and East Lancs Coachbuilders are jointly celebrating after winning three separate orders for a total of 23 buses.
The biggest order is from Brighton & Hove Bus and Coach Company for 10 Scania N112DR chassis fitted with East Lancs double-deck bodywork. The new buses are due for delivery next Easter.
Grey Green has ordered eight double-deck buses; six based on the Scania N112DR chassis and two based on the K92CR chassis. The N112 vehicles will be used on London routes for which Grey Green has successfully tendered, while the K92s will be used on a commuter service into London. Again the bodywork will be provided by East Lancs which will also build bodies on to five Scania N112CR chassis ordered by Kingston-upon-Hull City Transport. These single-deck buses are due to be delivered next spring.
Scania says the bus market is beginning to show real signs of movement again, and that sales in the coach market have not looked as healthy for a long time, with strong advance ordering.
o Northern Counties is enjoying an encouraging growth in demand for its double-deck bodies, with two orders for a total of 20 bodies from Merseybus and Maidstone and District.
The vehicles, all based on Leyland Olympian chassis, will be fitted with Northern Coun L___ ties' standard 9.5m single doorway, alloy-framed bodies.
Neither Merseybus, which has ordered 15 buses, nor Maidstone and District have bought double-deck bodies from Northern Counties before. Maidstone and District last bought Northern Counties bodies before it became part of the NBC, and this is its first order since the company was privatised a year ago.
Northern Counties sales and marketing director Mike Winter says: "The market for double-deck buses is beginning to recover." The company is also working on double-deck orders for GM Buses, Bexleybus and Derby.