Textbooks for the Student and Mechanic
26th November 1948
Page 39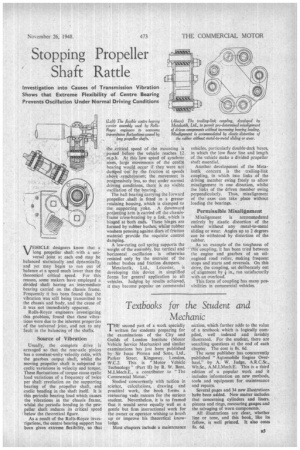 Page 39, 26th November 1948 —
Textbooks for the Student and Mechanic
Close
THE second part of a work specially written for students preparing for the examinations of the City and Guilds of London Institute (Motor Vehicle Service Mechanics) and similar examinations has just been published by Sir Isaac Pitman and Sons, Ltd., Parker Street, Kingsway, London, W.C.2. This is "Motor Vehicle Technology" (Part 11) by R. W. Bent, M.I.Mech.E., a contributor to "The Commercial Motor.
Studied concurrently with tuition in science, calculations, drawing and practical work, the book forms a reassuring vade mecum for the serious student. Nevertheless, it is so framed that it would serve equally well as a gentle but firm instructional work for the owner or operator wishing to brush up or improve his theoretical knowledge. Most chapters include a maintenance section, which further adds to the value of a textbook which is logically compiled, well indexed and lavishly illustrated. For the student, there are searching questions at the end of each chapter. The cost is 8s. 641.
The same publisher has concurrently published " Automobile Engine Overhaul," by A. W. Judge, A.R.C.Sc.,, Wh.Se., A.M.I.Mech.E. This is a third edition of a popular work and it includes information on new methods, took and equipment for maintenance and repairs.
Several pages and 34 new illustrations hate been aided. New matter includes that concerning cylinders and liners, pistons and rings, measuring gauges and the salvaging of worn components.
All illustrations are clear, whether line or tone, and this book, like its fellow, is well printed. It also costs 8s. 64,