One Hears
26th November 1948
Page 27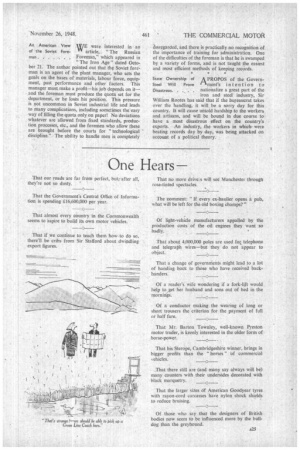 Page 27, 26th November 1948 —
One Hears
Close
That our roads are far from perfect, but; after all, they're not so dusty.
That the Government's Central Office of Information is spending £16,600,000 per year.
That almost every country in the Commonwealth seems to aspire to build its own motor vehicles.
That if we continue to teach them how to do so, there'll be cribs from Sir Stafford about dwindling export figures. That no more drivels will see Manchester through rose-tinted spectacles.
The comment: "If every ex-haulier opens a pub, what will be left for the old boxing champs?"
Of light-vehicle manufacturers appalled by the production costs of the oil engines they want so badly.
That about 4,000,000 poles arc used foi. telephone and telegraph wires—but they do not appear to object.
That a change of governments might lead to a lot of handing back to those who have received back handers. 0 Of a reader's wife wondering if a fork-lift would help to get her husband and sons out of bed in the ' mornings.
Of a conductor making the wearing of long or short trousers the criterion for the payment of full or half fare.
That Mr. Barton Townley, well-known Preston motor trader, is keenly interested in the older form of horse-power. 0
That his Sterope, Cambridgeshire winner, brings in bigger profits than the "horses" of commercial vehicles.
That there still are (and many say always will be) many counters with their undersides decorated with black marquetry. 0 That the larger sizes Of American Goodyear tyres with rayon-cord carcasses have nylon shock shields to reduce bruising.
Of those who say that the designers of British bodies now seem to be influenced more by the bulldog than the greyhound.