Snags in Government Hired Haulage
26th November 1943
Page 22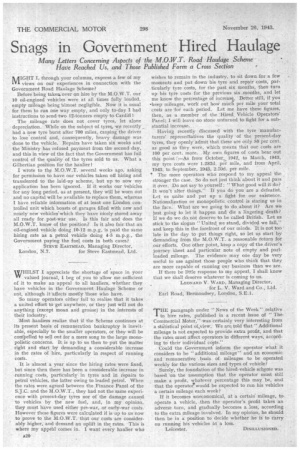 Page 22, 26th November 1943 —
Snags in Government Hired Haulage
Close
Many Letters Concerning Aspects of the M.O.W.T. Road Haulage Scheme Have Reached Us, and Those Published Form a Cross Section
MIGHT I, through your columns, express a few of my iv' views on out experiences in connection with the Government Road Haulage Scheme?
Before being takea, over on hire by the M.O.W.T. our 10 oil-engined vehicles were at all times fully loaded, empty mileage being blmost negligible. Now it is usual for them to run one way empty, and only to-day I had instructions to send two 12-tonners empty to Cardiff !
The mileage rate does not cover tyres, let alone depreciation. While on the subject of tyres" we recently _ had a new tyre burst after 700 miles, causing the driver to lose'control and, consequently, heavy damage was done to the vehicle. Repairs have taken six weeks and the Ministry has refused payment from the second day, and this in view of the fact -that the Government has full control of the quality of the tyres sold to us. What a Gilbertian position for the haulier!
I 'wrote to thp M.O.W.T, several weeks ago, asking for permission to have our vehicles taken off hiring and transferred to the laid-up scheme, but up to now my application has been ignored. If it works our vehicles for any long period, as at present, they will be worn out • and no capital will be available to replace them, whereas I have reliable information of at least one Lbndon controlled unit which boasts of garages filled with new and nearly new vehicles' which they have nicely stored away all ready for post-war use. Is this fair and does the M.O.W.T. know of the position? Is-it also fair that an oil-engined vehicle doing 10-12 mpg. is paid the same hiring rate as a petrol vehicle doing 4-5 m.p.g., the Government paying the fuel costs in both cases?
STEVE EASTMEAD, Managing Director, London, N.7. for Steve Eastmead, Ltd.
WHILST I appreciate the shortage -of space in your TY valued journal, I beg of you to allow me sufficient of it to make an appeal to all hauliers, whether they have vehicles in the Government Haulage Scheme or not, although it-affects mostly Those who have.
So many operators either' fail to realize that it takes a united effort to get anywhere, or they just will not do anything (except Moan and gronse) in the interests of their industry.
Most hauliers realize that if the Scheme continues at its present basis of remuneration bankruptcy is inevitable, especially to the smaller operators, or they will be com—pelled to sell out for a mere song to the large monopolistic concerns. It is up to us then to put the matter right and start by demanding a considerable increase in the rates of hire, particularly in respect of running costs.
. It is almost a year since the hiring rates were fixed, but since then there has been a considerable increase in running costs, particularly in tyres and in repairs to petrol vehicles, the latter owing to leaded petrol. When the rates were agreed between the Finance Panel of the S.J.C. and the KO.W.T., they had not the same experience with present-day tyres nor of the damage caused to vehicles by the new fuel, and, in my opinion, they must have used either pre-war, or early-war costs. However these figures were calculated if is up to us now to prove to the 11.1.0.W.T. that our costs are considerably higher, and demand an uplift in the rates. This is where my appehl comes in. I ward every haulier who 1.20
wishes to remain in. the industry, to sit down for a few moments and put down his tyre and repair costs, par-ticularly tyre costs, for the past six months, then turn up his tyre costs for the previous six months, and let me know the percentage Of increase. Better still, if you *keep mileages, work out how mud; per mile your total costs are for each period. Let me have these figures, then, as a member of the -Hired Vehicle Operators' Panel; I will leave no stone unturned to fight for a substantial increase.
Having recently discussed with the tyre manufacturers' represedtatives the quality 'of the present-day tyres, they openly admit that these are only 50 per cent. as good as they were, which means that our costs are 100 per, cent. more. 3ity own figures of costs bear out this point :-As from October, 1942, to March, 1943, my tyre costs were 1.282d. per mile, and from April, 1943, to September, 1943, 2.59d. per mile.
1' The more operators who respond to my appeal the stronger the case. So do not just think about it and pass U over. Do not say to yourself : "What good will it do? It won't alter things." If you do you are a defeatist. Let us unite and put up a fight for our existence. Nationalization or monopolistic control is staring us in the face: What are we going to do about it? Are we just going to let it happen and die a lingering death? If we do we do not deserve to be called British. Let us stick to the slogan "United, we stand, divided we fall," and keep this in the forefront of our minds. It is not too' late in the day to put things right, so let us start by demanding from the M.O.W.T. a reasonable return for our efforts, One other point, keep a copy of the driver's journey heet and particular note of empty and part loaded mileage. The evidence may one day be very useful to use against those people who think that they are more capable of running our business than we are.
If there be little response to my appeal, I shall know that we shall deserve whatever is coming to us.
LEONARD V. WARD, Managing Director,
for T.,. v. Ward and Co., Ltd. Earl Road, Bermondsey, London, S.E.1.
THE paragraph under " News of the Week" relative .
to hire rates, published in a recent issue of " The. Commercial Motor," was certainly very interesting from a statistical point of"view. We are told that "Additional mileage is not expected to provide extra profit, and that the rates must affect operators in different ways,. according to' their individual costs."
Could the Government inform the operator what it considers to be "additional mileage' and an economic and remunerative .basis of mileages to be operated weekly for the various sizes and types of vehicle?
Surely, the foundation of the hired-vehicle scheme was based 'on the assumption that the operator must still
make a profit, whatever percentage this may be, and that the operator' would be expected to run his vehicles a certain mileage each week?
If it becomes uneconomical, at a certain' mileage, to operate a vehicle, -.then the operator's profit takes an adverse turn, and gradually becomes a loss, according . to the extra mileage involved. In my opinion, he should then be in, a position to decide whether he is to carry on running his vehicles at a loss.
Leicester. DISILLUSIONED.