Army Now Has Mobile High-power Wireless Stations
26th November 1943
Page 21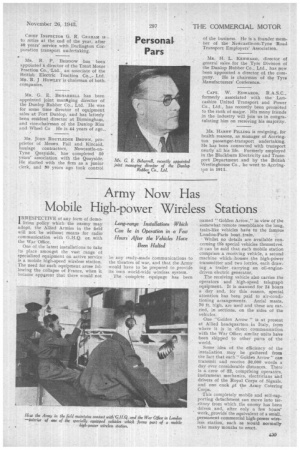 Page 21, 26th November 1943 —
Army Now Has Mobile High-power Wireless Stations
Close
Long-range Installations Which Can be in Operation in a Few Hours After the Vehicles Have Been Halted
TRRSPECTIVE of any forin of demo lition policy which the enemy may adopt, the Allied Armies in the field will not be without means for radio communication with G.H.Q. or with the War Office.
One of the latest installations to take its place amongst the vast range • of specialized equipment on active service is a mobile high-speed wireless station. The need for such equipment arose following the collapse of France, when it becanie apparent that there would not be any ready-made communications to the theatres of war, and that the Army would have to be prepared to provide its 'own world-wide wireless system.
The complete equipage has been named "Golden Arrow," in view of the somewhat remote resemblance the long, train-like vehicles haVe to the famous London-Paris boat. train.
Whilst no details are available concerning the special vehicles themselves.
• it can be said that each mobile station comprises a receiving vehicle, a second machine which houses the high-power transmitter and two lorries, each drawing .a trailer carrying an oil-enginedriven electric generator.
The receiving vehicle also carries the operators and high-speed telegraph equipment, It is manned for 24 hours a day and, for this reason, special. attention has been paid to air-conditioning arrangements. Aerial masts, 70 ft. high, are used and these are carried, in sections, on the sides of the vehicles.
One "Golden Arrow " is at present at Allied headquarters in Italy, from where it is in direct communication with the War Office; similar units have been shipped to other parts of the world,
Some idea of the efficiency of the installation may be gathered from th-e fact that each "Gold''en Arrow " can transmit and receive 30,000 words a day over considerable distances, There is a crew of 22, comprising operators, instrument mechanics, electricians and drivers of the Royal Corps of Signals, and one cook ,pf the Army Catering Corps.
This completely mobile and self-supporting detachment can move into territory from which the enemy has been driven and, after only a few hours' ' work,provide the equivalent of a small, permanent commercial high-power wireless station, such as would normally take many months to erect.