- Passing .Comments
26th November 1943
Page 16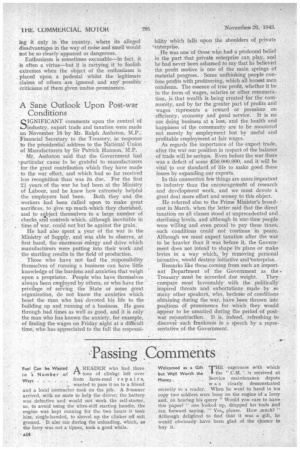 Page 17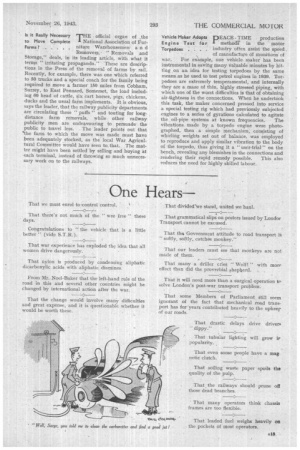 Page 16, 26th November 1943 —
- Passing .Comments
Close
Fuel Can be Wasted A READER who had three
in -a Number of tons of clinkgr left over
Ways froth farm-road repair s, . wanted to pass it on to a friend and a local contractor took on the job. A 3-tonner arrived, with no mate to help the driver; the battery was defective and would not work the self-starter, so, to avoid using the ultra-stiff starting handle, the engine was kept running for the two hours it took him, single-handed, to shovel up the clinker off soft ground. It also ran during the unloading, which, as the lorry was not a tipper, took a. good while.
• AM
Welcomed as a Gift ,T11-1E eagerness with which but Well Worth the I the " C.M." is received at
Service maintenance depots w a s clearly demonstrated recently to a reader. When he went to hand in his copy two soldiers were busy on the engine of a lorry and, on hearing his query " Would you care to have this paper? " one 'looked up, dropped his tools and ran forward saying, " Yes" please. How much? " Although delighted to find that it was a -gift, he would obviously have been glad of the chance to buy it.
National Association of Furniture . official organ of .the Warehousemen. a n d Removers, "Removals and Storage," deals, in its leading article, with what it terms "irritating propaganda." These are descriptions in the Press of the removal of farms by rail. Recently, for example, there was one which referred to 50 trucks and a special coach for the family being required to move a farmer 150 miles from Cobham, Surrey, to East Pennard, Somerset, the load induct. ing 80 head of cattle, six cart horses, pigs, chickens, ducks and the usual farm implements. It is obvious, says the leader, that the railway publicity departments are circulating these " puffs" and touting for longdistance farm removals, while other railway publicity men are endeavouring to persuadethe public to travel less. . The leader points out that 'the farm to which the move was made must have been adequately stocked, as the local War Agricultural Committee would have seen to that. The matter might have been settled by selling and buying at each terminal, instead of throwing so much unnecessary work on to the railways. Vehicle Maker Adopts pLACE TIME . production Engine Test for I method.; in the motor Torpedoes . . . industry often assist the speed
of manufacture of munitions of war. For example, one vehicle maker has been instrumentatin saving many valuable minutes by hitfing on an idea for testing torpedoes by the same means as he used to test petrol engines in 1939. Torpedoes are extremely temperamental, and internally they are a maze of thin, highly stressed piping, with which one of the worst difficulties is that of obtaining air-tightness in the connections. When he undertook this task, the maker concerned pressed into service a special testing rig which had previously subjected engines to a series of gyrations calculated to agitate the oil-pipe systems at known frequencies. The vibrations made by a torpedo engine were photographed, then a simple mechanism, consisting of whirling weights set out of balance, was employed to reproduce and apply similar vibration to the body of the torpedo, thus giving it a " user-trial " on the bench, revealing any blemishes in the connections and rendering their rapid remedy possible. This also reduces the need for highly skilled labour.