Ministry to Call for More Vehicles on Hire?
26th May 1944
Page 19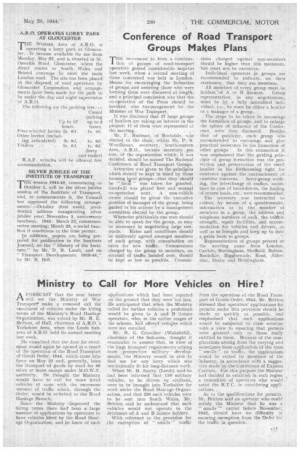 Page 19, 26th May 1944 —
Ministry to Call for More Vehicles on Hire?
Close
AFORECAST that the near future will see the . Ministry of War Transport make a renewed call for enrohnent of vehicles under the hiring -terms of the Ministry's Road Haulage Organization, was voiced by Mr, R. E, Britton, of Hull, chairman. of A.R.O. 's Yorkshire Area, when the Leeds Subarea of A.R.O. held its annual meeting last week.
,He visualized that the door for enrolment would again be opened as a result
• of the operation of the Road Transport of Goods Order, 1944, whin came into force on May 22 and, generally, bans the transport -of goods by roadfor 60 miles or more except under 111:0.W.T. authority. He thought the Ministry would have to call for more hired vehicles to cope with the enormous amhunt of traffic which, through the Order, ivould be switched to the Road Haulage Branch"
Since the Ministry improved the hiring terms there had been a large number of applications by operators to have vehieles hired by the Road Haulage Organization, and he knew of such applications which had been rejected orathe ground that they were too late. He anticipated that when the Ministry called for further vehicles a preference would he given to A and B licence operators, who, in .the earlier stages of the scheme, had offeredvelii0es which were not enrolled.
Mr. R. G. Ciowther (Wakefield),. chairman of the Sub-area, thought it reasonable to assume that, in view o,f the huge transport requirements arising from prospective military developments, the Ministry would he able to find use for any lorry which was 'mechanically fit for long-distance work.
When Mr. H. Storey (Leeds) said he had been informed that 150military vehicles, to be driven by civilians, were to be 'brought into Yorkshire for
• work under the Road Haulage Organization, and that 250 such vehicles were to be sent into South Wales, Mr. Britton said he understood that such vehicles would not operate to the detriment of A and B. licence holders. With reference to the provision for the exemption of " smalls " traffic
from the operation of the Road Transport of Goods Order, 1944, Mr. Britton stressed that operators' applications for permits under this provision should be made as quickly as possible, and emphasized that such applications would be subjected to close scrutiny with .a view to ensuring that permits were granted , only to those really entitled to them. Because of the complications arising from the varying and sometimes loose application of the term " smalls " to traffic, the applications would be vetted by members of the industry, in accordance with a sugges-' 1:ion made by the Conference of Express Carriers. For this purpose the Minister had decided to establish in each region a committee of operators who would assist the R.T.C. in considering applications...
As to the qualifications for. permits, Mr. Britton said an operator who could satisfy the Minister that he was a " small " carrier before November; 1942, should have no', difficulty in securing exemption from the Order for' the traffic in question.