..A.R.O. OPERATES LORRY PARK AT GLOUCESTER
26th May 1944
Page 19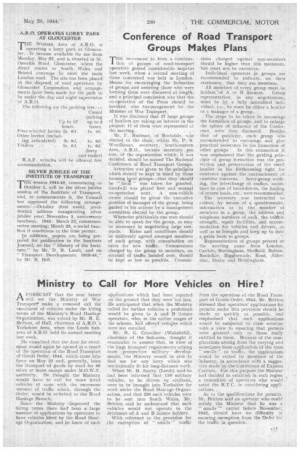 Page 19, 26th May 1944 —
..A.R.O. OPERATES LORRY PARK AT GLOUCESTER
Close
THE Western Area of A.R.O. is operating a lorry park at Gloucester. It became available for use from Monday, May-v.22, and is situated in St. Oswalds Road, Gloucester, where the direct routes to South Wales and Bristol converge to meet the main .London road. The site has been pla,ced at the disposal. of road operators by Gloucester Corporation and arrangements have been made for the park to be 'mar the day and night supervision of A.R.O.
The following are the parking fees:— Casual -parking Up to 12 up to 3 Moors. hours.
Four-wheeled lorries 2s. 6d. Is. Od. Other lorries (includ ing articulated) 3s. Ott Trailers ... 3s. 6d. ing articulated) 3s. Ott Trailers ... 3s. 6d. Is. Od. Is. 6d, (lorry and trailer) R.A.F. vehicles will be allowed free accommodation.
SILVER JUBILEE OF THE INSTITUTE OF TRANSPORT •
THE session 1944-45, commencing on October 1, will be the Silver jubilee Session of the Institute of Transport, anti, to commemorate it, the Council has approved the following arrangements:—October (first week), presidential -address inaugurating silver jubilee year: November 3, anniversary luncheon. 1945: March 22, commemorative meeting; March 23, a social function if conditions at the time permit.
In addition, papers are being prepared for publication in the Institute Journal, on the " History of the Institute," by Mr, -D. R. Lamb, and on " Transport •Developments, 1919-44," bv Mr. R. Bell.