A Lesson from the States
26th May 1944
Page 16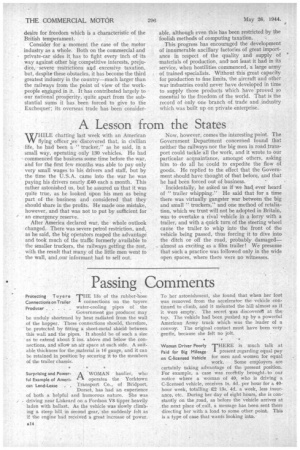 Page 16, 26th May 1944 —
A Lesson from the States
Close
WHILE chatting last week with an American flying officer we discovered that, in civilian life, he had been a " trucker," as he said, in a small way, operating -only 130 vehicles. He had commenced the business some time before the war, and for the first few months was able to pay only very small wages to his drivers and staff, but by the time the U.S.A. came into the war he was paying his drivers nearly £40 each a month. This rather astonished us, but he assured us that it was quite true, as he looked upon his men as being part of the business and considered that they should share in the profits. He made one mistake, however, and that was not to put by sufficient for an emergency reserve.
After America declared war, the whole outlook changed. There was severe petrol restriction, and, as he said, the big operators reaped the advantage and took much of the traffic formerly available to the smaller truckers, the railways getting the rest, with the result that many of the little men went to the wall, and .our informant had to sell out. Now, however, comes the interesting point. The Government Department concerned found that neither the railways nor the big men in road transport could tackle all the work, and it-wrote to our particular acquaintance, amongst others, asking him to do all he Could to expedite the flow of goods. He replied to the effect that the Government should have thought of that before, and that he had been forced out of business.
Incidentally, he asked us if we had, ever heard of " trailer whipping." He said that for a time there was virtually gangster war between the big and small " truckers," and one method of retaliation, which we trust will not be adopted in Britain, was to overtake a rival vehicle in a lorry with a trailer, and with a quick turn of the steering wheel cause the trailer to whip into the front of the vehicle being passed, thus forcing it to dive into the ditch or off the road, probably damaged— almost as exciting as a film trailer! We presume that such a practice was followed only in the wide open spaces, where there were no witnesses.