Weightsaving in Van-body Construction
26th May 1931
Page 44
Page 45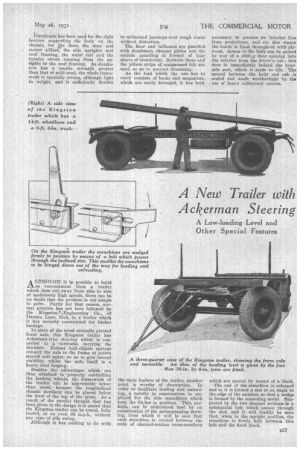 Page 44, 26th May 1931 —
Weightsaving in Van-body Construction
Close
A PART from the fact that a reduc tion , in the weight of, a body incrbaies the pay-load capacity of a vehicle, the question of body weights in general has :become a matter .of real importance owing to.the strict limitation of axle weights imposed by -new regulations. t..Various _methods have been devised and tried out with the objdet of reducing weight, and 'an interesting example in which'success has been achieved is furnished. by an A.E.C. 65 h.P.bOivaii, recently supplied to that well-known printing concern, Bezel], Watson and Viney, Ltd.
The basis ,of.. the vehicle, which is illustrated on this page, is the maker's Monarch short-wheelbase chassis. The body, which is 14 ft. long, 7 ft. 3 ins. wide and 6 ft. 3 ins, high, weighs only 12 cwt, including the cab and all fittings, a saving of apreximately 15 cwt, in comparison with similar types of body built of wood.
This saving in weight 'has been achieved by using duralumin framing and aluminium panels, and the work of construction was carried out by the Duramin Engineering Co., Ltd., Hythe Road, London, N.W.10, which, as readers of this journal will know from past references we have made to' the company's activities, specializes in the design and construction of light bodies oi many different types.
3326
buralumin has been used for the eight bearers supporting the body on the chassis, for the floor, the door and corner pillars, the side uprights and roof framing, the waist rail and the tubular struts running from the uprights to the roof .framing. As cluralumin has a tensile strength greater than that of mild steel, the whole framework is specially strong, although light in weight, and is sufficiently flexible to withstand journeys over rough roads without distortion.
The floor and tailboard are panelled with duralumin chequer plates and the • outside panelling is farmed of four sheets of aluminium Between these and the pillars strips of compressed felt are used, so as to prevent drumming.
As the load which the van has to carry consists of books and magazines, which are easily damaged, it has been
necessary to provine an interior free from projections, and for this reason the inside is lined throughout with plywood. Access to the body can be gained by way of a sliding door opening into the interior from the driver's cab ; this door is immediately behind the nearside seat, which is made to tilt. The spaced between the body and cab is sealed and made weathertight by the use of heavy rubberized canvas.