'If the landfill tax increases this will sink many companies'
26th June 1997
Page 51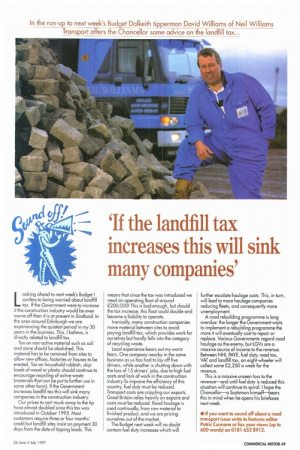 Page 51, 26th June 1997 —
'If the landfill tax increases this will sink many companies'
Close
Looking ahead to next week's Budget I confess to being worried about landfill tax. If the Government were to increase it the construction industry would be even worse off than it is at present in Scotland. In the area around Edinburgh we are experiencing the quietest period in my 30 years in the business. This, I believe, is directly related to landfill tax.
Tax on non-active material such as soil and stone should be abolished. This material has to be removed from sites to allow new offices, factories or houses to be erected. Tax on household rubbish, skiploads of wood or plastic should continue to encourage recycling of active waste (materials that con be put to further use in some other form). If the Government increases landfill tax this will sink many companies in the construction industry. Our prices to cart muck away to the tip have almost doubled since this tax was introduced in October 1995. Most customers require three or four months' credit but landfill sites insist on payment 30 days from the date of tipping loads. This means that since the tax was introduced we need an operating float of around £200,000! This is bad enough, but should the tax increase, this float could double and become a liability to operate. Ironically, many construction companies move material between sites to avoid paying landfill tax, which provides work for ourselves but hardly falls into the category of recycling waste. Local experience bears out my worst fears. One company nearby in the same business as us has had to lay off five drivers, while another is shutting down with the loss of 15 drivers' jobs, due to high fuel costs and lack of work in the construction industry.To improve the efficiency of this country, fuel duty must be reduced. Transport costs are crippling our exports. Great Britain relies heavily on exports and costs must be reduced. Road haulage is used continually, from raw material to finished product, and we are pricing ourselves out of the market.
The Budget next week will no doubt contain fuel duty increases which will further escalate haulage costs. This, in turn, will lead to more haulage companies reducing fleets, and consequently more unemployment. A road rebuilding programme is long overdue: the longer the Government waits to implement a rebuilding programme the more it will eventually cost to repair or replace. Various Governments regard road haulage as the enemy, but LGVs are a massive source of income to the revenue. Between NHI, PAYE, fuel duty, road tax, VAT and landfill tax, an eight-wheeler will collect some 22,250 a week For the revenue.
This is a massive unseen loss to the revenue—and until fuel duty is reduced this situation will continue to spiral. I hope the Chancellor—a Scotsman himself—bears this in mind when he opens his briefcase next week.