• What's in a name? Well, transforming the Renault R
26th June 1997
Page 32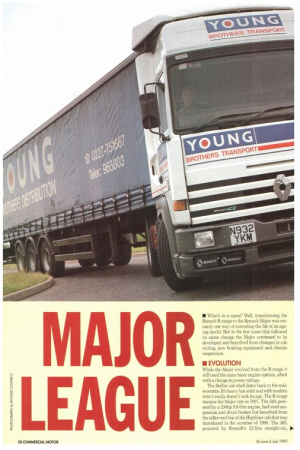 Page 33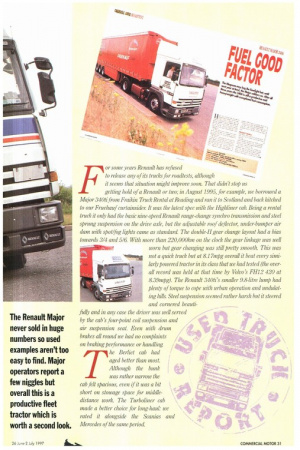 Page 32, 26th June 1997 —
• What's in a name? Well, transforming the Renault R
Close
range to the Renault Major was certainly one way of extending the life of an ageing model. But in the few years that followed its name change the Major continued to be developed and benefited from changes in cab styling, new braking equipment and chassis suspension.
• EVOLUTION
While the Major evolved from the R-range it still used the same basic engine options, albeit with a change in power ratings.
The Berliet cab shell dates back to the midseventies. It's heavy but solid and with modern trim it really doesn't look its age. The R-range became the Major late in 1991. The 340, powered by a 334hp 9.8-litre engine, had steel suspension and drum brakes but benefited from the taller roof line of the Highliner cab that was introduced in the summer of 1990. The 385, powered by Renault's 12-litre straight-six,
For some years Renault has refused to release any of its trucks for roadtests, although it seems that situation might improve soon. That didn't stop us getting hold of a Renault or two; in August 1995, for example, we borrowed a Major 340ti from Fraikin Truck Rental at Reading and ran it to Scotland and back hitched to our Fruehauf curtainsider. It was the latest spec with the Highliner cab. Being a rental truck it only had the basic nine-speed Renault range-change synchro transmission and steel sprung suspension on the drive axle, but the adjustable roof deflector, under-bumper air dam with spot/fog lights came as standard. The double-H gear change layout had a bias towards 3/4 and 5/6. With more than 220,000km on the clock the gear linkage was well worn but gear changing was still pretty smooth. This was not a quick truck but at 8.17mpg overall it beat every similarly Powered tractor in its class that we had tested (the overall record was held at that time by Volvo's FH12 420 at 8.39mpg). The Renault 340ti's smaller 9.8-litre lump had plenty of torque to cope with urban operation and undulating hills. Steel suspension seemed rather harsh but it steered and cornered beauti
fully and in any case the driver was well served by the cab's four-point coil suspension and
air suspension seat-. Even with drum brakes all round we had no complaints
on braking performance or handling
The Berliet cab had aged better than most. Although the bunk was rather narrow the cab felt spacious, even if it was a bit \ short on stowage space for middle\ distance work. The Turboliner cab made a better choice for long-haul: we rated it alongside the Scanias and Mercedes of the same period.