Ei ou don't need to wait until you have a crime
26th June 1997
Page 29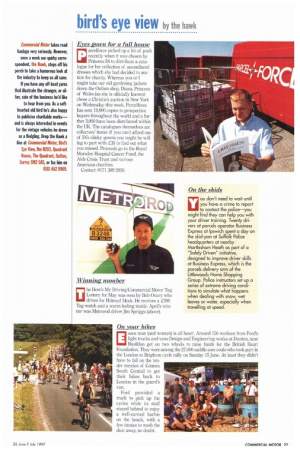 Page 29, 26th June 1997 —
Ei ou don't need to wait until you have a crime
Close
to report to contact the police—you might find they can help you with your driver training. Twenty drivers at parcels operator Business Express at Ipswich spent a day on the skid-pan at Suffolk Police headquarters at nearby Martiesham Heath as part of a "Safely Driven" initiative, designed to improve driver skills at Business Express, which is the parcels delivery arm of the Littlewoods Home Shopping Group. Police instructors set up a series of extreme driving conditions to simulate what happens when dealing with snow, wet leaves or water, especially when travelling at speed. Eihe How's My Driving/Commercial Motor Tag Lottery for May was won by Bob Ovary who drives for Holroyd Meek. He receives a £200 Tag watch and a warm feeling inside. April's winner was Metrorod driver Jim Spriggs (above).
Elssex man (and woman) is all heart. Around 150 workers from Ford's light trucks and vans Design and Engineering works at Dunton, near
Basildon got on two wheels to raise funds for the British Heart Foundation. They were among the 27,000 saddle-sore souls who took part in the London to Brighton cycle rally on Sunday 15 June. At least they didn't have to fall on the tender mercies of Connex South Central to get their bikes back to London in the guard's van.
Ford provided a truck to pick up the cycles while its staff stayed behind to enjoy a well-earned barbie on the beach, with a few tinnies to wash the dust away, no doubt.