letters
26th June 1997
Page 28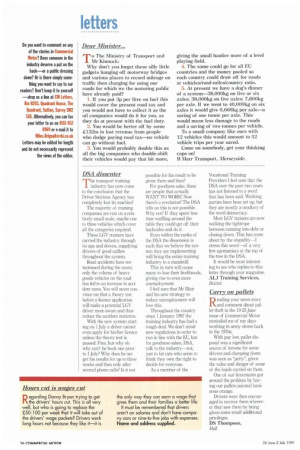 Page 28, 26th June 1997 —
letters
Close
To The Ministry of Transport and 1. Mr Kinnock: Why don't you forget these silly little gadgets hanging off motorway bridges and various places to record mileage on traffic then charging for using our roads for which we the motoring public have already paid?
1. If you put 3p per litre on fuel this would cover the present road tax and you would not have to collect it as the oil companies would do it for you, as they do at present with the fuel duty.
2. You would be better off by some £132m in lost revenue from people who dodge paying road tax—no vehicle can go without fuel.
3. You would probably double this as all the big companies who double-shift their vehicles would pay that bit more,
giving the small haulier more of a level playing field.
4. The same could go for all EU countries and the money pooled so each country could draw off for roads at vehicles/road-miles/country ratio.
5. At present we have a dog's dinner of a system-38,000kg on five or six axles; 38,000kg on five axles; 7,600kg per axle. If we went to 40,000kg on six axles it would give 6,666Icg per axle—a saving of one tonne per axle. This would mean less damage to the roads and a saving of two tonnes per vehicle.
To a small company like ours with 12 vehicles this would amount to 52 vehicle trips per year saved.
Come on somebody, get your thinking caps on!
B Marr Transport, Merseyside.