Discharged with fine
26th June 1997
Page 23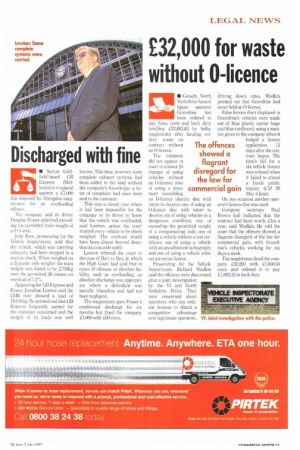 Page 23, 26th June 1997 —
Discharged with fine
Close
• Sutton Cold field-based GB Express (Mid lands) is to appeal against a £1,000 fine imposed by Abingdon magistrates for an overloading offence.
The company and its driver Douglas Fraser admitted exceeding the permitted train weight of a 3+3 artic.
John Rose, prosecuting for the Vehicle Inspectorate, said that the vehicle, which was carrying exhausts, had been stopped in a routine check. When weighed on a dynamic axle weigher the train weight was found to be 2,736kg over the permitted 38 tonnes; an overload of 7.2%.
Appearing for GB Express and Fraser, Jonathan Lawton said the CAR note showed a load of 19,00kg. He pointed out that GB Express frequently carried for the customer concerned and the weight of its loads was well known. This time, however, some complete exhaust systems had been added to the load without the company's knowledge: a letter of complaint had since been sent to the customer.
This was a classic case where it had been impossible for the company or its driver to know that the vehicle was overloaded, said Lawton, unless the court wanted every vehicle to be check weighed. The overload would have been almost beyond detection on a six-axle outfit.
Lawton referred the court to the case of Hart vs Bex, in which the High Court had said that in cases of offences of absolute liability, such as overloading, an absolute discharge was appropriate where a defendant was morally blameless and had not been negligent.
The magistrates gave Fraser a conditional discharge for six months but fined the company £1,000 with f:60 costs.