BRIEFS Charts must be shown
26th June 1997
Page 22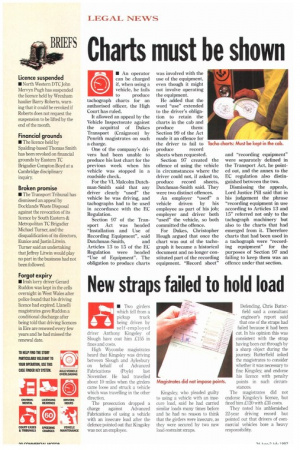 Page 22, 26th June 1997 —
BRIEFS Charts must be shown
Close
• An operator can be charged if, when using a vehicle, he fails to produce tachograph charts for an authorised officer, the High Court has ruled.
It allowed an appeal by the Vehicle Inspectorate against the acquittal of Dukes Transport (Craigavon) by Penrith magistrates on such a charge.
One of the company's drivers had been unable to produce his last chart for the previous week when his vehicle was stopped in a roadside check.
For the VI, Malcolm Dutchman-Smith said that any driver clearly "used" the vehicle he was driving, and tachographs had to be used in accordance with the EC Regulation.
Section 97 of the Transport Act was headed "Installation and Use of Recording Equipment", said Dutchman-Smith, and Articles 13 to 15 of the EC Regulation were headed "Use of Equipment". The obligation to produce charts was involved with the use of the equipment, even though it might not involve operating the equipment.
He added that the word "use" extended to the driver's obligation to retain the charts in the cab and produce them: Section 99 of the Act made it an offence for the driver to fail to produce record sheets when requested.
Section 97 created the offence of using the vehicle in circumstances where the driver could not, if asked to, produce record sheets, Dutchman-Smith said. They were two distinct offences.
An employer "used" a vehicle driven by his employee as part of his job; employer and driver both "used" the vehicle, so both committed the offence.
For Dukes, Christopher Hough argued that once the chart was out of the tachograph it became a historical document and no longer constituted part of the recording equipment. "Record sheet" and "recording equipment" were separately defined in the Transport Act, he pointed out, and the annex to the EC regulation also distinguished between the two.
Dismissing the appeals, Lord Justice Pill said that in his judgement the phrase "recording equipment in use according to Articles 13 and 15" referred not only to the tachograph machinery but also to the charts that had emerged from it. Therefore charts that had been used in a tachograph were "recording equipment" for the purposes of Section 97 and failing to keep them was an offence under that section.