No calls on the move
26th June 1997
Page 15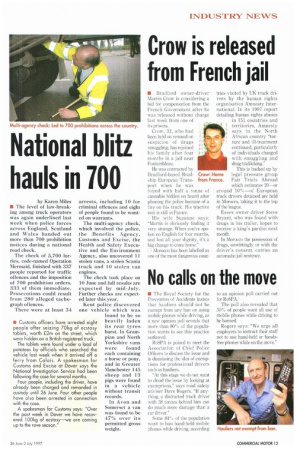 Page 15, 26th June 1997 —
No calls on the move
Close
• The Royal Society for the Prevention of Accidents insists that hauliers should not be exempt from any ban on using mobile phones while driving, as a new opinion poll reveals that more than 80% of the population wants to see this practice outlawed.
RoSPA is poised to meet the Association of Chief Police Officers to discuss the issue and is dismissing the idea of exemptions for professional drivers such as hauliers.
"At this stage we do not want to cloud the issue by looking at exemptions," says road safety adviser Dave Rogers. "If anything, a distracted truck driver with 38 tonnes behind him can do much more damage than a car driver."
Some 84% of the population want to ban hand-held mobile phones while driving, according to an opinion poll carried out for RoSTA.
The poll also revealed that 50% of people want all use of mobile phones while driving to be banned.
Rogers says: "We urge all employers to instruct their staff not to use hand-held or handsfree phones while on the move."