PASSENGER TRAVEL NEWS.
26th June 1923
Page 22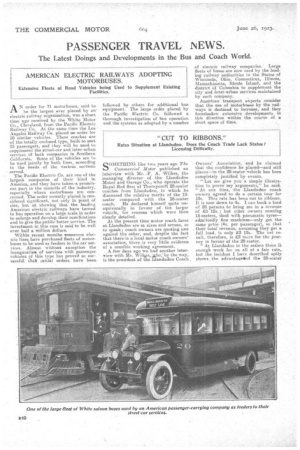 Page 22, 26th June 1923 —
PASSENGER TRAVEL NEWS.
Close
The Latest Doings and Developments in the Bus and Coach World.
AMERICAN ELECTRIC RAILWAYS ADOPTING MOTORBUSES.
Extensive Fleets of Road Vehicles being Used to Supplement Existing Facilities.
AX order for 71 motorbuses' said to. be the largest ever placed by an electric railway organization, was a short time ago received by the White Motor Co., Cleveland, from the Pacific Electric Railway Co. At the same time the Los Angeles Railway Co. placed an order for 10 similar vehicles. These coaches are of the totally enclosed type, built to seat 25 passengers, and they will be used to supplement the street-car and inter-urban cervices of both conepanies in Southern California. Some of the vehicles are to be used jointly by both lines, according to the needs of the various sections served.
The Pacific Electric Co. are one of the largest companies of their kind in America, and they have taken-a prominent part in the councils of the industry, especially where motorbuses are eoncerned. The order recently placed is considered significant, not only in. point Of size, but at showing that the leading American electric railways have turned to bus operation on a large scale in order to enlarge and develop their ramifications and to give the public better service. The investment in this case is said to be well over half a million dollars.
Within recent months numerous electric lines have purchased fleets of motorbuses to be used as feeders to the ear services. Almost without exception the inauguration of services with passenger vehicles of this type has proved so successfiil that initial orders have been followed by others for additional bus equipment. The large order placed by the Pacific Electric Co. followed a thorough investigation of bus operation and the systems as adopted by a number
of electric railway companies. Large. fleets of buses.are now used by the leading railway authorities in the States of Wisconsin, Ohio, Connecticut, Illinois, Massachusetts, Rhode Island, and the district of Columbia to supplement the city and inter-urban services, maintained by each company.
American transport experts consider that the use of motorbuses by the railways is destined to increase, and they foreshadow extensive developments in this direction within the course of a short space of time..