News and Comment.
26th January 1911
Page 8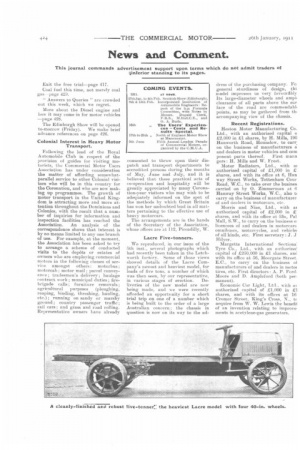 Page 9
Page 10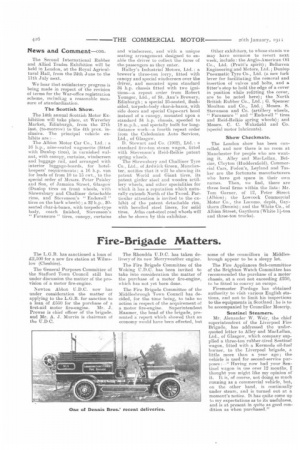 Page 8, 26th January 1911 —
News and Comment.
Close
Keywords :
Manufacturing
,
Road Transport
,
Mechanical Engineering
,
Albion Motors
,
Tire
,
Michelin
,
Steam Wagon
,
Dunlop Rubber
,
Ac Cars
,
Leyland Motors
,
Standard Motor Company
This journal commands advertisement support upon terms which do not admit traders of iinferior standing to its pages.
Exit the free trial—page 411.
Coal fuel this time, not merely coal gas—page 42a.
" Answers to Queries " are crowded out this week, which we regret.
More about the Diesel engine and how it may come in for motor vehicles —page 926.
The Edinburgh Show will be opened to-morrow (Friday). We make brief advance references on page 926.
Colonial Interest in Heavy Motor Transport.
Following the lead of the Royal Automobile Club in respect of the provision of guides for visiting motorists, the Commercial Motor Users Association has under consideration the matter of affording somewhatparallel service to other Colonial visitors who will be in this country for the Coronation, and who are now making up programmes. The growth of motor transport in the United Kingdom is attracting more and more attention throughout the Dominions and Colonies, with the result that a number of inquiries for information and inspection facilitiea has reached the Association. An analysis of the correspondence shows that interest is by no means limited to any one branch of use. For example, at the moment, the Association has been asked to try to arrange a scheme of conducted visits to the depots or estates of owners who are employing commercial motors in the following classes of service amongst others: motorbus ; motorcab ; motor mail; parcel conveyance; tradesmen's delivery; haulage contract work; municipal duties; firebrigade calls; furniture removals; agricultural purposes (ploughing, reaping, binding, threshing, hauling, etc.); running on sandy or marshy ground; country passenger traffic; rail cars; and grass and road rolling. Representative owners have already consented to throw open their dispatch and transport departments to accredited persons during the months of May, June and July, and it is believed that these practical acts of co-operation and hospitality will be greatly appreciated by many Coronation-year visitors who may wish to be adequately informed on the spot of the methods by which Great Britain has won her undoubted lead in all matters pertaining to the effective use of heavy motorcars.
The arrangements are in the hands of the Secretary of the Association, whose offices are at 112, Piccadilly, W.
Lacre Five-tonners.
We reproduced, in our issue of the 5th inst., several photographs which had recently been taken in the Letchworth factory. Some of those views showed details of the Lacre Company's newest and heaviest model, for loads of five tons, a number of which was then seen, by our representative,
in various stages of erection. Deliveries of the new model are now being made, and we were recently afforded an opportunity for a short trial trip on one of a number which is being built to the order of a large Australian concern ; the chassis in question is now on its way to the ad dress a the purchasing company. Fo general sturdiness of design, thi model impresses us very favourAbly Its large-diameter wheels and amps clearance of all parts above the stir face of the road are rommenclabll points, as may be gathered from th' accompanying view of the chassis.
Recent Registrations.
Heston Motor Manufacturing Co. Ltd. with an authorized capital o £2,060 in Li shares, by H. Mills, 190 Hanworth Road, Hounslow, to earl': on the business of manufacturers o and dealers in motor vehicles and own ponent parts thereof. First mane gers: H. Mills and W. Frost.
Motor Radiators, Ltd. with al
authorized capital of £1,000 in e shares, and with its office at 6, Han way Street Works, Tottenham Cour Road, W.C., to take over the busines carried on by 0. Zimmerman at 6 Hanway Street Works, W.C., also t: carry on the business of manufacturer of and dealers iii motorcars, etc.
Morris and Nies, Ltd., with al authorized capital of £2,000 in Lshares, and with its office at 53a, Pal Mall, S.W., to carry on the business o. lieeneees of and dealers in motorcars omnibuses, :motorcycles, and vehicle: of all etc. First secretary : J. j ly Margetts International Seetiona. Tyre Co., Ltd., with an authorized capital of £250,000 in £1 shares, and with its office at 56, Moorgate Street. E.C., to carry on the business oh manufacturers of and dealers in motoi tires, etc. First directors : A. P. Ford. Moore and D. Ampleford (both per. manent).
Economic Car Light, Ltd., with ar authorized capital of £1,000 in Ll shares, and with its offices at 16 Cromer Street, King's Cross, N., tr acquire from W. W. Lewis the benefii of in invention relating to improve' merits in acetylene-gas generators. The chief constable of Swansea has now opened a new subscription list, in order to purchase a second motor ambulance for use in and around the borough.
The Glenfuir Laundry, which is about to open a newly-equipped works at _Bromley Road, Catford, SE., will probably use only motorvans for delivery and collection purposes.
Leyland Motors, Ltd., has secured an order from the Heckmondwike Cuoperative Society for a four-ton Leyland petrol lorry, to be fitted with :3 flat platform, and also one for a 30 h.p. two-ton van, with a speciallydesigned body, for the bakery department of the same concern.
Pagefield Lorries.
Walker Bros. (Wigan), Ltd., of Pagefield Iron Works, Wigan, is steadily establishing a. big track in the north-western part of the country, and now enjoys a repntation which deserves to spread in all directions. One of the latest vehicles has been supplied to Hailwood's Manchester Creamery, Ltd., and this vehicle is comfortably able to carry a net load of two tons.
Michelin's New London Head., quarters.
THE COMMERCIAL MOTOR, in its issue of the 3rd February, 1910, was the first British journal to give publicity to the intentions of the Michelin Tyre Co., Ltd., with regard to the erection of a huge English branch. We then, in commenting upon the fact that the L.C.C. had passed the plans, gave a. few particulars of the site, and the area which it was intended the build ings should cover. On Friday last, the 20th inst., the fully-equipped establishment was officially opened, in the presence of a large company reiiresentative of international interests, by Mr. Edward Manville,
Chairman of the S.ALM.T. M. Paul Cernbon, the French Ambassador in London, M. Andre Michelin, M. Marc Wolff, many well.known members of the motor industry, and some owners of Iirge fieets of motereabs and motorvans, were also present.
The new buildings, which have been constructed upon the latest principles, with reinforced concrete floors and pillars, iron window-frames, doors and fittings, etc., are splendidly finished, both inside and out, The interior arrangements are disposed to provide a spacious entrance hall and sales-room, whilst a novelty is the establishment of a touring office, whence information
as to routes, etc., will be furnished free of charge to users of Michelin tires, or to other applicants. The allimportant repair department, to which covers can be sent for expert examination and treatment, is supplemented by an ample stores, packing and dispatch departments, . Modern Facilities exist for the loading and unloading of vans, and there are no fewer than seven doors for receipt and delivery purposes. The basement, which extends under the entire building, can accommodate sonic 25,000 covers and 30,000 inner tubes.
Other features of th€ new buildings are a well-appointed garage, fitted with wide sliding doors and capable of holding 12 cars and vans—the lat. ter, as might be expected, for the motor delivery in the London district of Michelin's wares. On the first floor, where the majority of the clerical work is undertaken, one also finds the advertising department—a branch of the Michelin undertaking which has made itself world famous by reason of its depictions of " Bibendum."
Marshall's Colonial Tractors.
Marshall, Sons and Co., Ltd., of Gainsborough, finds its sales of Colonial-type oil tractors to be growing in a satisfactory manner. We have illustrated numerous examples during the past two years, and the latest photograph to hand, which is reproduced herewith, was taken at Sedley, near Regina, Saskatchewan, Canada. It shows the tractor pulling eight ploughs, 16 ft. of discs, and a 19 ft. scrubber loaded with stones.
Selden's U.S.A. Patent.
Following the receipt of a cable advice from New York, a fortnight ago, we reported the quashing of the Selden patent. In effect, the patent is quashed, although the precise legal situation differs, in that the patent is held to be valid only in respect of motorcars in which engines of the Brayton two-cycle type are employed. Seeing that the great majority of constructors in the U.S.A. use the Otto four-cycle type of engine, the decision is of equivalent effect. to a quashing of the patent, which, after its being originally filed in the year 1879, was kept alive, in a manner possible only to the American patent office, until the year 1895 ; it. is due to expire on 5th November, 1912. Recalling that royalties under this patent were at the rate of only three-quarters of one per cent., and that the associated makers received dividends out of the proceeds, the effect of the new decision cannot bring about any material reduction in American prices. Notice of appeal to the Supreme Court of the United States has been given. The Second International Rubber and Allied Trades Exhibition will be held in London, at the Royal Agricultural Hall, from the 24th June to the 11th July next.
We hear that satisfactory progress is being made in respect of the revision of terms for the War-office registration scheme, includieg a reasonable measure of standardization.
The Scottish Show.
The 14th annual Scottish Motor Exhibition will take place, at Waverley Market, Edinburgh, from the 27th inst. (to-morrow) to the 4th prex. inclusive. The principal vehicle exhibits are :- The Albion Motor Car Co., Ltd. : a 16 h.p., nine-seated wagonette (fitted with Dunlop tires), in varnished walnut, with canopy, curtains, windscreen and luggage rail, and arranged with interior luggage-boards, for hotelkeepers' requirements ; a 16 h.p. van for leads of from 10 to 15 cwt., to the special order of Messrs. Peter Paisley and Son, of Jamaica Street, Glasgow (Dunlop tires on front wheels, with Shrewsbury and Challiner detachable rims, and Stevenson's " EndswelI " tires on the back wheels) ; a 32 h.p., 30seated 01er-4-banes, with torpedo-type body, coach finished, Stevenson's " Faransure " tires, canopy, curtains
and windscreen, :Ind with a unique seating arrangement designed to enable the driver to collect the fares of the passengers as they enter.
Halley's Industrial Motors, Ltd. : brewer's three-ten lorry, fitted with canopy and special windscreen over the driver, and mounted upon standard 34 h.p. chassis fitted with two ignitions—a repeat order from Robert Younger, Ltd., of St. Ann's Brewery, Edinburgh; a special 25-seated, flushsided, torpedo-body char-a-bancs, with side doors and special Cape-cart hood instead of a canopy, mounted upon a standard 34 h.p. chassis, speeded to 18 m.p.h., and specially built for longdistance work—a fourth repeat order from the Caledonian Auto Services, Ltd., of Glasgow. D. Stewart and Co. (1902), Ltd. : a standard live-ton steam wagon, fitted with Stevenson's Reid-Reikie patent spring wheels. The Shrewsbury and Challiner Tyre Co., Ltd., of Ardwiek Green, Manchester, notifies that it will be showing its patent World and Giant tires, its patent girder steel and wooden artillery wheels, and other specialities for which it has a reputation which naturally extends North of the Tweed. Particular attention is invited to the exhibit of the patent detachable rim, with bevelled steel liners, for solid tires. Atlas east-steel road wheels will also be shown by this exhibitor. Other exhibitors, to whose stands we may have occasion to revert next week, include : the Anglo-American Oil Cu., Ltd. (Pratt's spirit); Belhaven Engineering and Motors, Ltd.; Dunlop Pneumatic Tyre Co., Ltd. (a new fork lever for facilitating the removal and insertion of valves and bolts, and a fitter's stop to hold the edge of a cover in position while refitting the cover, are to be noted here); the North British Rubber Co., Ltd. ; 0. Spencer Moulton and Co., Ltd. ; Messrs. S. Stevenson and Co. (artillery wheels, " Faransure " and " Ftwlswell " tires and Reid-Reikie spring wheels); and Messrs. C. C. Wakefield and Co. (special motor lubricants).
Show Checkmate.
The London show has been cancelled, and now there is no room at Manchester for people who are wanting it. Alley and MacLellan, Beleize, Clayton (Huddersfield), Commercial Cars, Iroden's, Leyland and Tacker are the fortunate manufacturers who have got space in their own. names. Then, we find, there are three local firms within the lists: Mr. Tom Garner, of 12, Peter Street (A 1 hion) 3 the Lowoock Commercial Motor to., the Loeomo. depot, Gaythorn (Dennis); and the White Co., of Albion Street, Ga.'s-thorn (White 1-tor and three-ton trucks).